DENNIS BONIFER
CREATIVE CRUSADER  
|
  VP, CREATIVE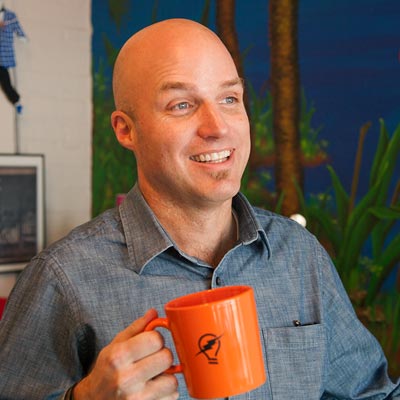 Besides being a creative force, Dennis is one of the biggest UK fans you'll meet. He also roasts his own coffee beans and can eat five crackers in under a minute without the aid of a beverage.
What brand best reflects your personality and why?
Penguin. It's vintage, yet modern. It has a geeky vibe to it and is unexpected. It's a bit off the radar and it's well made.
If you could make the whole world listen to one album, what would it be?
I recently discovered "The Original Jam Sessions 1969" by Quincy Jones and Bill Cosby – of all people. It's a great funk-driven album that was completely unexpected when I first heard it. Cosby may be a despicable guy, but his "Hikky-Burr"  is just plain fun. In my mind, it had to have been influential on old-school 80's beatbox hiphop. However, ask me next week and chances are it will be something completely different.
What's your favorite sound?
My kids laughing together at some goofy inside joke that they share with one another.
If you were a genre of music, what genre would you be?
Jazz
What word or expression do you use far too often?
"I wish my mom had named me Dekembe."