TUMBLEWEED
When Current360 first began working with Tumbleweed Mexican Food & Mesquite Grill, as it was known back in 1986, the company had three corporate-owned stores and two franchise locations confined to the Louisville, KY market. Thirty years and four CEOs later, Tumbleweed Tex-Mex Grill & Margarita Bar owns and operates 22 locations in Kentucky, Indiana and Ohio.
TELEVISION
We produced the first Tumbleweed television commercial 30 years ago and competed every year to improve upon the previous year's efforts. From live-action to motion graphics, we've created incredible imagery for the brand, and delivered it through broadcast, cable and on-line channels.
PRINT
From menus to LTO's to outdoor advertising to in-store wearables, the designers at Current360 have developed an arresting and stunning visual language for this regions leading Casual Dining Restaurant concept.
WEB AND DIGITAL
From their very first step into the digital realm, Tumbleweed has relied exclusively on Current360 to design, build and maintain a robust online presence. Beyond a mere website, Current has developed an automated feedback application for guests and a materials ordering system for unit managers. The result is engagement and efficiency at the highest level.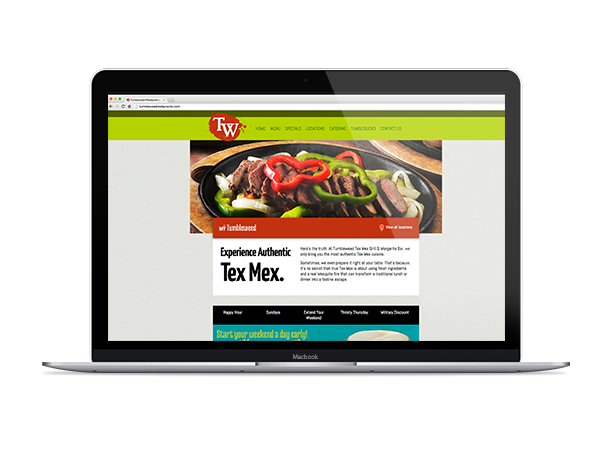 SEE MORE OF THE GOOD STUFF