Louisville's third Startup Weekend is quickly approaching and looking for enthusiastic folks like you to sign up for 54 hours of entrepreneurial-fueled frenzy. Don't think you fit the mold? Think again. I didn't think I fit the mold but quickly changed my mind thanks to a convincing call for participants from Melissa Chipman at Let Them Tweet Cake. So here's my (hopefully) convincing call. Startup Weekend is for anyone who wants to know what it's like to bring a business idea to life. If you're a designer, marketer, project manager, developer or just looking for an exciting learning experience, here's why you should attend:
1. Be apart of a global movement. Startup Weekend Louisville is a part of a global community known simply as "Startup Weekend." It's a community of passionate leaders and entrepreneurs on a mission to inspire, educate, and empower individuals in communities like Louisville. As of this post, Startup Weekend has managed to put on over 1,100 events in 400+ cities with 100k+ participants.
2. You'll meet awesome, talented people. You'll meet and more than likely work with some of Louisville's brightest developers, designers, entrepreneurs, marketers and managers. On top of that, they'll want to work with you! Yeah you right. Sick of networking events where you just talk about what you do? This is an event where you will actually DO.
3. You will learn. A lot. Taking where #2 leaves off, Startup Weekend Louisville is all about learning through doing. You don't have to be an expert, just willing to bring your knowledge to the table. It's the perfect opportunity to develop your skills and learn from others you probably would never otherwise have crossed paths with.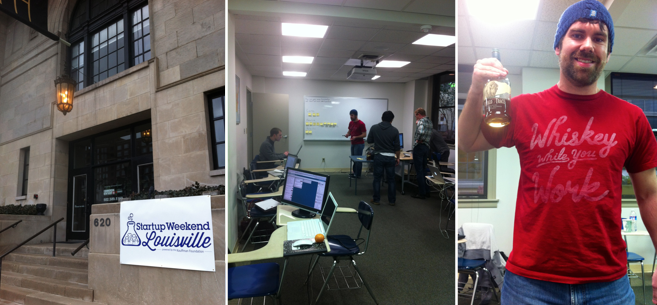 The location for SWL2, creating Where The Trucks At, Erik Snyder and his handy Bourbon stash
4. Fast and furious fun. Startup Weekend takes an idea and launches it in 54 hours. It works like this: on Friday evening, anyone is welcome to pitch a startup idea. Teams are then formed around the most popular ideas. From that point, each team breaks off to create, code, design, and hopefully do some market validation. The culmination happens on Sunday evening with presentations in front of local entrepreneurial leaders.

5. Got an idea? Pitch it. It's worth saying again: anyone can pitch an idea. Yes, that means you. Of course you don't have to pitch an idea, but all are welcome. You never know what your seed of a thought may turn into with the support of others.
6. Angels, VCs and Incubators. Local technology and startup leaders will be in attendance as mentors and judges. They'll make the rounds throughout the weekend to answer your questions and to provide valuable critical feedback. (If you don't know what Angels, VCs and Incubators are you'll most certainly learn at Startup Weekend.)



7. Brain gain. You'll be challenged to work and think fast about new things. Exercise for your brain, yo.
8. Food and Swag and Prizes – Oh my! Your ticket to Startup Weekend Louisville includes meals, WiFi, and access exclusive resources.
9. Location, location, location. New to Startup Weekend Louisville Fall '13 – a snazzy new location in the new Nucleus Innovation Park. This isn't your momma's building. Ok, so that makes no sense. Whatever. All you need to know is that it's a top tier space conveniently located at the corner of Market and Floyd.
10. Do something different. Startup Weekend notes, "most attendees will go back to their regular jobs on Monday morning feeling a little tired but very proud of themselves, their accomplishments, and their newly-learned skills from the startup world. It's a hands-on experience in product development and customer development, and a lot of fun." Couldn't have said it better. You don't need a reason to attend other than just the desire to do something different, be inspired, and take a break from your daily grind.
My participation in Startup Weekend Louisville 2 was immensely satisfying and inspiring. Our team came together around Will Bogel's idea of building an accurate food truck locator, known as Where the Trucks At?
Initially I was unsure if I would be able to provide a lot of value to the team but ended up being busy the entire 54 hours. I was able to get the Twitter account rolling almost immediately to build buzz, provided input on strategies and tactics, helped conduct market research, assembled our presentation and even sketched out part of the concept for the logo (which Mr. Toon then made fabulous).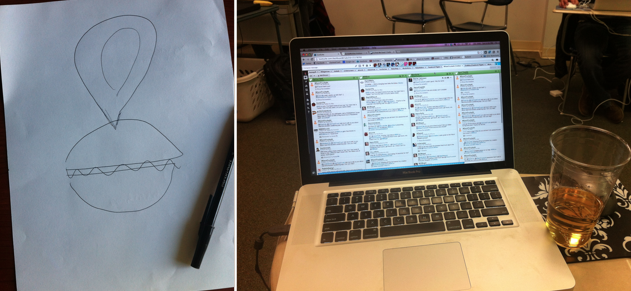 Permission granted to laugh at these awesome drawin' skills.
I list these things only to illustrate a snippet of what you might be working on and to again encourage you to consider attending. If you're worried about the cost of attendance, ask your employer if they'd assist or pay your way. You will after all be honing your skills and gaining knowledge that you will probably be able to use in your workplace. (And on that note, a big thank you to C360 for sending me!)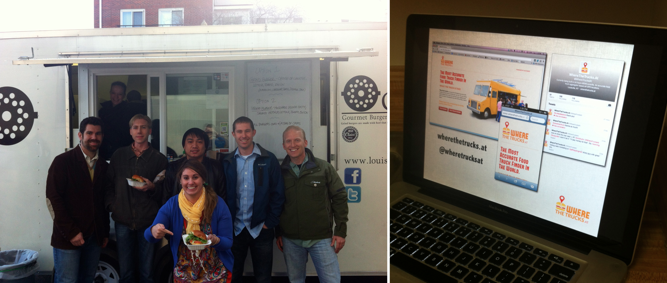 Startup Louisville Weekend 2 Team "Where the Trucks At?": Erik Snyder, Justin Toon, Anthony Pham, Angela Trumbaturi, Will Bogel, Aaron Drake
For more info: 
Startup Weekend Louisville 3
September 20-22, 2013
Nucleus Innovation Park
Register: https://louisville.startupweekend.org/
Several members of Where The Trucks At? are still going strong. Download the app for your iPhone.