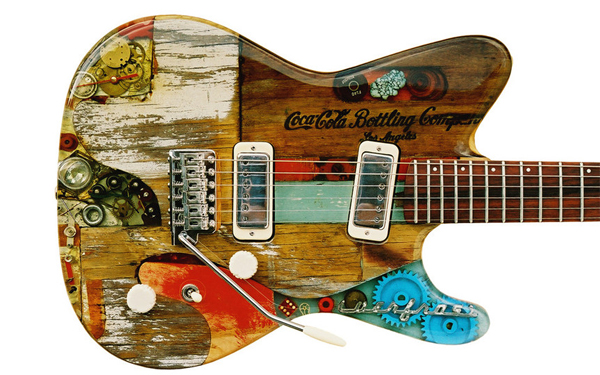 I recently began researching boutique (read; handmade, rare and expensive) guitars. Aside from just being a music gear nerd, I have recently made plans to study under a local luthier in order to realize a dream I've had for several years now – building guitars. It has been during this process of sketching and researching woods that I started having all sorts of ideas for design in general.
One luthier in particular that was of inspiration is Michael Spalt of Spalt Instruments. The guitar pictured above is one of his designs. Without boring you too much, Michael started developing his trademark line of guitars known as Totemguitars. WTH, right? In his words: "common to all guitars in this section is the "ResinTop", a unique process marrying a tonewood back with a clear resin coating on the top into which decorations and inclusions can be applied.  after experimenting with various types of resin I developed this process, allowing me to assemble objects and assorted bric-a-brac into a homogenous guitar body.  the resin is formulated to accommodate the thermal expansion and contraction of the wood and it is sonically transparent."
The result is nothing short of stunning. Graphic/web designers who enjoy incorporating textures and "found objects" into their designs can definitely appreciate Michael's work.
So designers, the next time you are about to start sifting through blogs for inspiration, try experimenting with an entirely new medium. You just may uncover a hidden talent that your mom has been hiding from you. And for you other guitar nerds out there, here a few more examples of incredible guitar design…
Scott Walker Guitars
William Jeffrey Jones Guitars
Frank Hartung Guitars