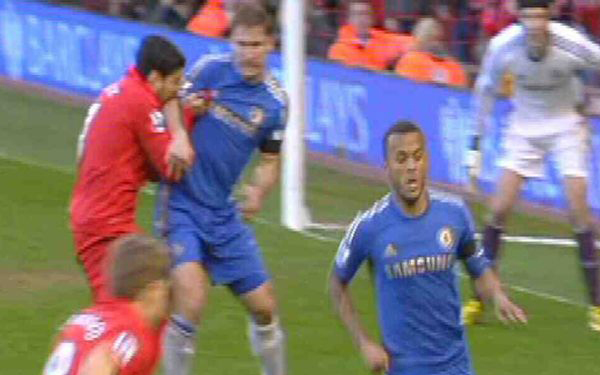 Can you remember the last time a professional athlete bit an opponent? For me…it was Mike Tyson vs. Evander Holyfield in 1997. In all actuality, there has been several incidences in the NHL since then, but fast-forward to 2013 and I got to witness live footage of Luis Suarez, world-class Uruguayan footballer playing for Liverpool FC, bite Chelsea FC defender Branislav Ivanovic in the upper-arm during a heated English Premier League game.
But what financial affect does this have on his club?
Let me break it down for you.
Luis Suarez received a 10-match ban. That suspension consists of the last 4 games of the 2012-2013 season and the first 6 of the 2013-2014 season. Being the prolific player he is, Suarez earns around $155,000 a week. This equates to Liverpool paying $1.5 million to a player that has not contributed to the club at all…watching the rest of the team from the stands.
Furthermore, being without their star goal-scorer, Liverpool's chances of qualifying for the Europa League next season have diminished. This lightens Liverpool's piggybank to the sum of $6.2-10.8 million depending on the progress they would have made in the Europa League.
As if fading hopes of qualifying for Europa League wasn't enough, Suarez's suspension will most certainly affect the 2013-2014 season. With Liverpool's rich history of being a European contender in the Champions League, the club, players, and fans expect to be competing amongst the greatest teams next season. But with Suarez on the bench for roughly the first 2 months of the season, their hopes of Champions League qualification are in serious jeopardy. To compound their headache, Liverpool isn't in a financial situation to bring in another world-class striker to keep their hopes alive unless they're willing to part with Luis Suarez in the process. Missing out on Champions League football could cost Liverpool roughly $38.8 million when it's all said and done. This news does not allow Chairman Ian Ayre to sleep easy as Liverpool's team wage bill is the 5th highest in the English Premier League.
Now…I've thrown a lot of financials at you, but what about the qualitative affect of Suarez's actions? What are the young, future footballers of the world to think about Suarez biting an opponent, and how are parents supposed to explain his aggression? An old friend of mine (and die-hard Liverpool fan) struggled with this conversation. Here's how it went.
Son: Why did he do it Dad?
Father: I don't know why, mate.
(A few seconds pause as the son thinks about it all.)
Son: I think I know why Daddy.
Father: Why?
Son: Well Luis has teeth like a horse, maybe he thought Ivanovic's arm was an apple.
Although his son made light of the situation with a joke, Suarez's absurd act of violence left the father at a loss for words for what his son witnessed his idol footballer do. How would you explain the logic behind Suarez's bite on Ivanovic?
Many reporters have stated that Luis Suarez is a world-class player that gives Liverpool FC world-class problems. How does Liverpool respond? How does this tarnish Liverpool's world-renowned and accomplished history? Should Liverpool stick with their investment in Suarez or sell their troubled star for less headaches and a more sound investment aligned with their club's history?
You tell me.
Here's an article speaking more in-depth of the financial affect Suarez has caused Liverpool FC.
Luis Suarez: how his ban affects Liverpool's future and philosophy