Nothing like coming home and learning one of your major appliances is suddenly no longer working. In my case, it was our dryer.
The next day my favorite appliance repairman (the Appliance Man, I swear by him)  informed me that it was the motor. That meant a hefty repair bill.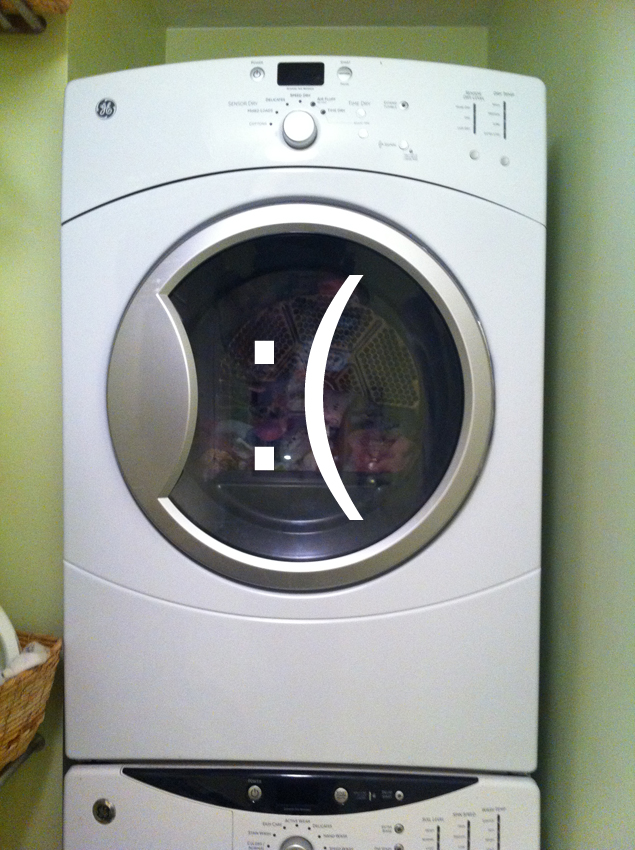 My dryer was a mere 462 days old, (or 92 past its one year warranty). Now I'm no industrial engineer, but I would think the motor would be a pretty major component of a dryer. Dryers aren't supposed to be a disposable product, like lightbulbs. The shelf life of a motor should be a bit longer than 462 days. Certainly the warranty should exceed that?!?!
So, I contacted the 1-800-customer support line hoping they could help. After running the gauntlet of button mashing and on hold muzak, I finally spoke to a real person who told me, 12 months was 12 months. Basically I was SOL.
I was mad. I took my frustration out on the twitterverse to voice my anger.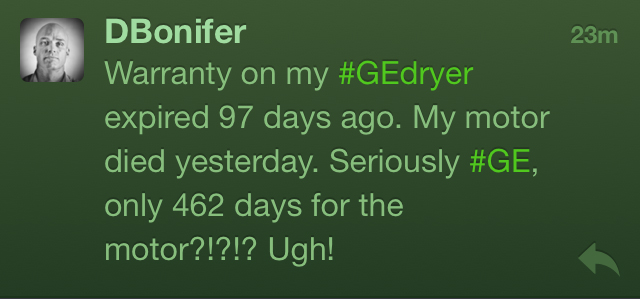 Then, 4 minutes later, my phone buzzed. I received a direct tweet from @Ge_appliances:



I was shocked. I fully expected my tweet to linger in cyberspace until it was completely forgotten.
Megan and her team moved at warp speed . She directed me to their E-Response team, who by 8:30 that evening, agreed to not only cover the service call but replace the motor at no cost.
It was refreshing to not only have a right wronged but too see that someone in the corporate world was listening.
We push to the value and importance of social media on a daily basis to our clients. It's something we believe in. To see it in action from the other side of the fence and knowing how it made me feel as a consumer, just reinforced those beliefs.
It's good to be heard. Chalk one up for the little guy.