So I was walking my dog Holden the other evening through the neighborhood and started thinking about Co-Branding. Sort of random I realize. I'll explain later.
Co-Branding is simply a mutually beneficial alliance where the equity or key product attribute of two brands is combined to create a new product or service. I'm a big fan of the tactic. I think it's a smart means of bringing immediate recognition to product extensions or creating the ability to charge a premium price.
One of my favorite recent examples is the Nestle Crunch mash-up with the iconic Girl Scout Cookie Brand. Even better, they're a limited time only release. A Thin Mint Crunch Bar? Don't mind if I do.
Sometimes co-branding is really obvious – like peanut butter and jelly obvious. In another example from the confectionary world, the good folks at Reese's and Smucker's didn't have to think too far out the box to create the following product: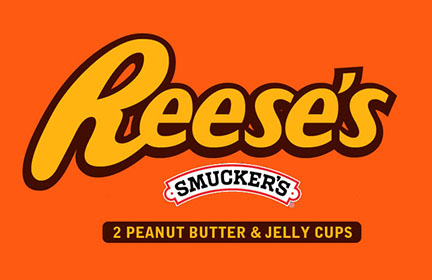 A killer example and one of local interest is the Doritos Locos Tacos from Taco Bell. Like something dreamed up by a college student with the munchies, this has to be one of the top product innovations in QSR history with more than 500 Million tacos sold in just over a year and a half.
In my view no company does co-branding better that P&G. Why? Well aside from being some of the world's smartest marketers, they have access to dozens of leading brands that they can match within their own portfolio. Some of their many examples include Crest Complete+Scope Outlast, Head and Shoulders Old Spice 2 in1, Tide plus Febreze and Dawn Hand Renewal with Olay Beauty just to name a few.
Sometimes it's an unexpected category that makes the idea seem that much more ingenious. For example, former client of mine Marriott has partnered with IKEA to launch a chain of hotels in Europe. I think the IKEA design aesthetic and brand equity will immediately indicate to consumers that the hotel is hip, modern and a great value. Seems far more prudent to me than spending the time and money to build a brand from scratch with these attributes.
And finally, with two brands as iconic and innovative as Nike and Apple it was no surprise that their partnership would be similarly fresh and innovative. Combine an iPod, a sensor and a specially designed running shoe and runners can now take a virtual coach along on all of their runs.
There are some risks with co-branding and certainly some best practices. I would recommend that companies only partner with companies that share complementary values. Second, try to only co-brand only with products that a hold a perceived best-in-class status. Third only enter in to situations where you can retain full review and approval rights on all elements of communications.
One risky alliance is when one of the partners is a person. No one is perfect, and should something happen to the partners "personal" brand both partners are likely to suffer. A recent example are the many companies that partnered with Paula Dean and now have overflowing clearance racks.
Which brings me back to my dog walk. For years, automakers have partnered with high-end brands to add additional perceived value for consumers  – and additional dollars to the sticker price. And I don't think there is a sweeter example than the 1993 Mercury Villager Nautica Edition Mini-Van sitting in my neighbor's driveway.