On Sunday, teams of big-league social media strategists and techies will gather for what is being hailed as the Super Bowl of social media showdowns.
The event? Well, the Super Bowl, of course.
With 150,000 people converging on downtown Indianapolis, Ind. for the game, the NFL saw the need for the first ever Super Bowl Social Media Command Center. The group will use search tools and analytics to help fans with everything from parking to finding things to do in Indianapolis before the game. This is exciting news for the profession of social media as it highlights the ever-increasing importance of our role in the communications mix.
"We're kind of breaking new ground here so we don't know the exact numbers yet of what we'll be dealing with, but we should be able to provide that after the game to other cities that have to deal with these types of issues," said Taulbee Jackson, CEO of Raidious, the agency managing the hub. "I think a lot of brands will start to see a need for something like this."
The Super Bowl may be getting its first social media command center, but CurrentMarketing has been providing these types of services for our clients for well over three years. While the Super Bowl's effort certainly takes the cake for most ethernet cables ever required in the wireless era (over a mile) and a certified "shit ton" of screen space (150 square feet of networked screen space), we think our team's capabilities match up well with the services being provided for the big game.
Here is our pre-game analysis breakdown of CurrentMarketing's social media capabilities vs. that of the Super Bowl's Social Media Command Center.



Monitoring Conversation
In the weeks leading up to the game, the Super Bowl crew will be monitoring the conversation for 15 hours a day. That's mighty impressive, but don't award the points to them too quickly. Our CurrentMarketing social media team knows no hours. With wireless capability we respond to our clients' customers as the conversation happens, not only within business hours. Actually, social conversation mostly happens in the hours before and after work. So guess when we do most of our talking?
Sophisticated Searching
The search methods the Super Bowl team members are using allows them to find complaints of all kinds. They're diving deep into an area where keywords are the name of the game. A spokesperson for the Super Bowl team points out that fans may not Tweet out "Where can I find parking," but will likely say, "Parking sucks." Their team will then respond to help. This is extremely similar to the services our CurrentMarketing team provides, not only searching for a brand's name online, but also for users who may be interested. For example, if a user Tweets they are looking for a place to find a margarita, we may point them in the direction of a nearby client's restaurant for a margarita special.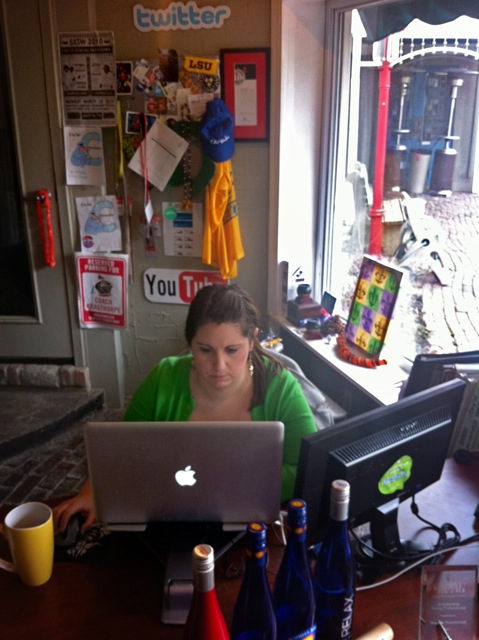 One mile of ethernet cable, 150 square feet of screens
OK, we punt on this one.
Sentiment and Brand Monitoring
While it hasn't been mentioned as a part of this command center, we're sure the team will be recording the comments and sentiments from game-goers and not just responding to them. This is one of the most powerful moves we have at in the CurrentMarketing social media playbook. We track what consumers are saying about our clients and their competition. And this is not just on Twitter, but accounts for all online mentions – meaning we track blogs, forums, news sources, mirco-media and even personal Facebook profile mentions.
Tool Belt
To handle the massive influx of monitoring and engaging, the Super Bowl Command Center is employing a team of 50 and outfitting them with top notch enterprise-level social media management software. Well we may be 48 bodies short of 50, but our team of two are masters of the same level of sophisticated software. That's right, our social media management capabilities are on the same playing field as that of the Super Bowl's Social Media Command Center.



Work Space
The 50 man Super crew will be working from a 2,800 square foot space in downtown Indianapolis. That's certainly a lot of room, but we're fairly certain we get the points on this one, too. At our immediate disposal we have two fully-interactive meeting spaces, a full photo studio (just because it's a photo for Facebook doesn't mean we can't make it look good!), a courtyard that makes an excellent outdoor office on nice days, a very spacious social media office, and one entirely-too-comfortable couch in our Geek Suite's lounge area. Oh, and did we mention our close proximity to The Blind Pig? And constantly expanding offerings of NuLu?



So, for those who can't make a call without instant replay, here's our recap:
Monitoring Conversation: Quarterback sneak for a touchdown, CurrentMarketing
Sophisticated Searching: Punt return for touchdown, CurrentMarketing
Excessive ethernet cable: Punt to Super Crew.
Sentiment & Brand Monitoring: Touchdown & 2 point conversation, CurrentMarketing
Tool Belt: Touchdown Super Crew, Call reversed (too many men on the field).
Work Space: On side kick by CurrentMarketing. Converted to touchdown.
We may not be monitoring the Super Bowl, but we can run with the best of them.
– Angela Trumbaturi and Brad Luttrell