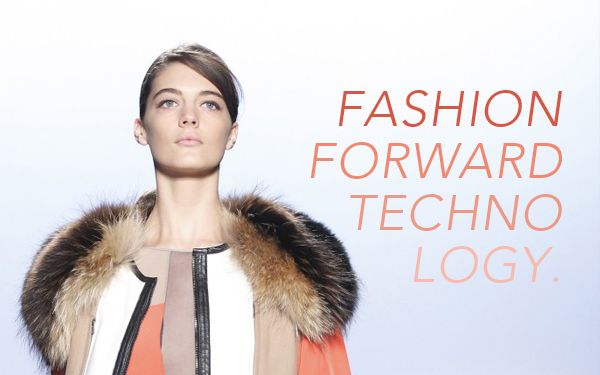 Each year around this time, my wannabe "inner fashionista" frantically scavenges style blogs and websites to stay constantly updated on the latest spring trends – unfortunately for me, it's taken the Fashion world a hot minute & a half to cozy up with the budding technologies of our digital world.
Thankfully, within this past year it seems they have embraced a few high tech digital platforms in a big way, and I couldn't be more excited about it!
Using many new apps like Svpply, Polyvore, and even Pinterest, sharing one's own personal style and fashion inspirations has become easier than it's ever been. But the latest advancements in Fashion technology spun off from the biggest event in the Fashion world each year, New York Fashion Week. Smart phone apps and social media are playing an important role in big global fashion weeks this year more than any other year.
The latest in fashion tech comes from the innovators at Made Fashion Week at Milk Studios, who've launched a new app to give fashionista's a closer glimpse into the up-and-coming looks, trends, and fashion designers for 2012. MADE – which is available for iPhone, iPad, and Android – has been designed to listen for specific sound waves that will be played over the speakers during runway shows throughout the week. These sound waves, inaudible to the human ear, are synched to the shows themselves and tell the app which outfit is on display at any time. The app will then automatically pull up a photograph of the outfit — taken by a photographer on the scene — as well as the designer's name, biography and contact information. Users can share the photographs through various forms of social media and save looks to their phones. The app also works for people watching Webcasts of the shows.
In addition to MADE, one of this season's hottest iPhone apps is Fashion GPS Radar, which allows users to register for Fashion Week events, find shows on an interactive map and check in by scanning their own personal barcode. The app officially launched this season and has nearly 4,500 users. Lastly one of the most popular Fashion Week apps, which is curated by editors at W Magazine is W Front Row. This app collects Fashion Week tweets and offers a lists of recommended restaurants, shopping venues and cultural destinations in all four Fashion Week cities.
All these apps are free to download, & my hope is that they make your spring fashion trend & style hunts a lot less chaotic, like they did for me! Good luck, & happy shopping 🙂