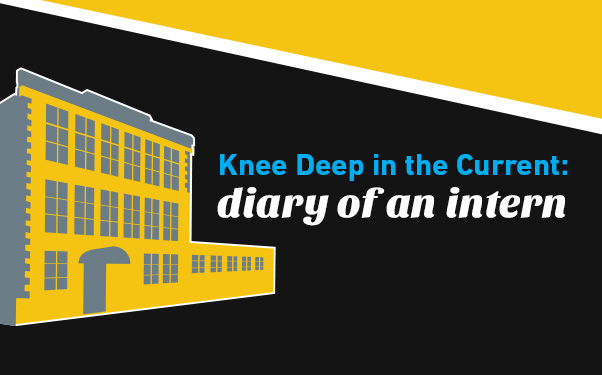 I don't know if nervous is the right word to describe my feelings towards starting my internship with Current360. Nervous is not a word I usually use to describe myself, rarely ever. Anticipant is more like it. Anticipant of the role Current360 will play in my future in marketing, and life. "My name is Jilian Higgins and I am a Current360 intern." That sounds official.
I'm familiar with the business world, even at a young age I took to working in the big leagues early. When I'm not stirring up trouble at Current, I'm riding around town stirring up business for Tumbleweed Tex Mex & Margarita Bar, check out our new tableside guacamole! Needless to say I love my job and I love marketing. I've always been a people person. I have no fear when it comes to strangers and I have a firm belief that "no" actually means "not right now." So here I am sitting at my own DESK on my own COMPUTER answering my very own PHONE! I could get used to it here. "Why Current?" you might ask. Well besides the obvious- they market for Tumbleweed, I've been able to get the gist of the way their company works and I feel it's an honor to be chosen to work here. They do great work and go above and beyond for their clients- I would know I work for one of them.
So by now I'm sure you're quite interested to know why I'm writing this blog and why you should want to read it. Well that's simple: I'm writing it to chronicle my experience here at Current360 and you should want to read it because I'm hilarious and interesting, and so is working in this office. Trust me. Current360 is like no other office I've ever been in, and I've been in quite a few. They have more fun here, while at work, than I've ever seen. But what's the greatest thing about working here? The people. The staff here is so welcoming and I've yet to see someone that looks like they don't want to be here.
Every morning when I arrive I check my desk and email and then head to Jolt. Ladies and gentlemen, let's talk about Jolt. Some insane genius came up with this thing here called Jolt. I'm no crazy business exec, but I know when something works… and this program works! Every morning at 8:43 am the ENTIRE team gathers around a big table and each person takes 60 seconds to go through what they are doing for the day. Now at first that doesn't seem like anything helpful, but upon further inspection one can see how important this time can be. It's a time where staff can ask each other quick questions or voice when they are free for the day if someone needs an extra hand. It only takes around 15 minutes, but for Current it is a very important part of the day. It's a chance for their whole team to get together and chat. If they have something exciting going on they can get support from their colleagues or if they need help they can ask for it. Its just genius.
I look forward to my days to come at Current360. I hope to get to know each and every part of this company and gain understanding of how a real marketing firm works. Interning here will help to give me a "leg up" when I graduate college and step into the real world of business. I can only hope that I become as valuable to them as they are becoming to me!
I will be adding a new "CURRENT" phrase or word of the week in each of my blogs. These are terms or phrases Current uses in every day business that were foreign to me!
CURRENT PHRASE OF THE WEEK: 
HOT- Really important and should be bumped up on the list of things to do. "Are the Tumbleweed t-shirt orders HOT?  Yes, they need to be shipped today."