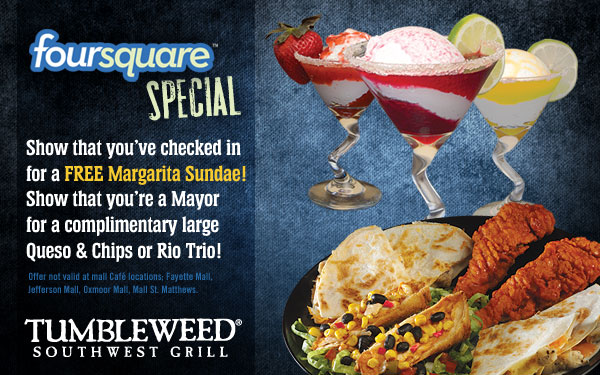 If you're note familiar with the restaurant industry, you may not realize that site location is the key to the success of any concept. Might tomorrow's buzzword(s) in the industry be "geolocation, geolocation, geolocation?"
If you run a business, consumers have already more than likely included you in the Foursquare virtual map and conversation, whether you like it or not.  For some business, this might feel like a loss of control. So why not take back some control from the virtual world and use geolocation apps like Foursquare to your advantage?
According to the National Restaurant Association, 52% of consumers prefer restaurants offering loyalty and rewards programs. This is where Foursquare comes in, with a simple and strategic step for any business to offer loyalty programs.
We recently launched a Foursquare promotion on behalf of our client Tumbleweed Southwest Grill, joining restaurants like McDonalds, Starbucks and Chili's. Customers using Foursquare can now get a FREE Margarita Sundae with every check-in at any Tumbleweed. Mayors get the royal treatment with their choice of a FREE Chile Con Queso and Chips or a Rio Trio appetizer.
Tumbleweed is the latest restaurant chain to offer something to Foursquare users, just for being there. Because the Mayorship offer will "thank" one guest per location at any time, we've included the check-in offer in addition to the Mayorship offer to thank all guests for choosing Tumbleweed.
Not only are we rewarding each guest who checks-in, we are also setting a goal for guests to reach Mayorship, thus creating a driver for repeat business.
Each check-in = FREE Margarita Sundae for Guests
Each Mayorship = FREE Chile Con Queso and Chips or Rio Trio appetizer for Mayors
Free for Guest + Repeat Customers = Positive for Tumbleweed