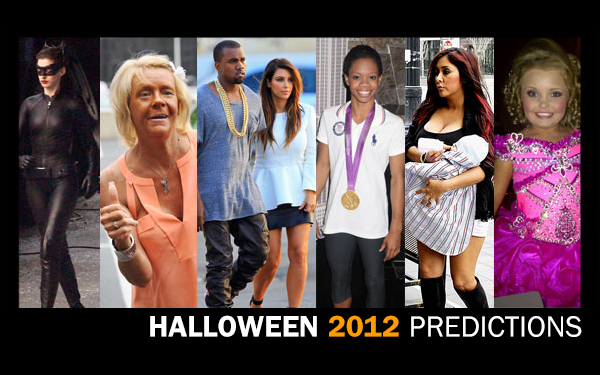 Imagine the horror when you show up to your Halloween party dressed like everyone else. Thanks to Google, there's no need to be scared! This year, Google looked at the most trending searches to predict what the most popular costume will be. If you guessed Lady Gaga; sorry, you're wrong. Believe it or not, the meat dressed pop singer did not make Google's list of most searched Halloween costumes this year.
Instead, similar to last year, this Halloween looks to be for the birds. Angry Birds tops Google's list of most-searched costumes in 2012 and 2011. The popular birds exploded our phones last year, and now they're blowing up our search boxes. It's a clever costume choice that proves trick-or-treaters want a cute but dangerous costume.
But alas, some things never change. Classic monster costumes still seem to be all the rage, which makes sense because they are actually relevant to the season. The most popular monster this year is the mummy with 175,000 google searches, followed by the vampire at 165,000 searches, the werewolf at 54,000 searches, then finally Frankenstein with 23,800. You also might be surprised to know that this Halloween season, each Ninja (128,000 google searches) will have it's hand full with 3 pirates (370,000 google searches).
Also, Google searches for costumes this year skewed, unsurprisingly, perhaps sadly, toward the sexy. So if you're wondering which theme to chase, survey says you'll probably be partially nude this Halloween.
Here is the breakdown:
64% Sexy costumes
27% Funny costumes
9% Scary costumes
California, is the only state interested in the best of all worlds — sexy, funny, and scary with "the sexy zombie" being one of the highest costume Google search returns in the state. Elsewhere in America, Playboy bunnies and sexy stewardesses will haunt the streets.
If you're a superhero fanatic like myself, see how your favorite character sizes up against the Google search test:
Wonder Woman – 148,000 Google searches
Cat Woman – 121,000 Google searches
Captain America – 81,000 Google searches
Poison Ivy – 81,000 Google searches
Thor – 29,000 Google searches
Green Lantern – 29,000 Google searches
Hulk – 13,000 Google searches
With Halloween only a few months away, I think it's about that time to start thinking about this year's costume, and if Google didn't help you, maybe I can. Here is what I'm predicting as the most popular costumes for 2012, taking into consideration the best of the best from pop culture, reality television stars, characters from movies, and even infamous personalities.
Here's the list:
1. Tan Mom
3. Carly Rae Japsen
4. Kim Kardashian & Kanye West
5. US Olympic Gymnasts
6. Snooki & Baby
7. Katniss (Hunger Games)
8. Christian Grey (Fifty Shades of Grey)
9. Black Widow from "The Avengers"
10. Catwoman from "The Dark Knight Rises"
12. Lana Del Rey
14. Bane from "The Dark Knight Rises"
15. Sh*t Girls Say