Of all the businesses that have been affected by the pandemic, it's hard to find one that's taken more hits than the restaurant industry. With capacity mandates that range anywhere from 25% to 50%, it's not hard to see why they're struggling. Many restaurants are already doing some of the things we outline below, but, if not, here are some adjustments you can make to keep your restaurant afloat and even succeed during the pandemic:
Make Sure Your Customers Feel Safe
The safer your customers feel when they're in your restaurant to dine or carry out, the more likely it is that they'll come back. Show them that you're doing everything you can to keep diners and employees safe. Some things you can do to show your commitment to safety include:
Making sure all employees wear masks at all times
Having hand sanitizer available in multiple locations
Asking diners to remain masked until they're seated at their table
Immediately cleaning and sanitizing tables after diners leave
Making sure tables are properly distanced at least six feet apart
Ensure That Your Restaurant is "COVID Clean"
Before the pandemic threw a truck-sized wrench into the restaurant industry, cleanliness was still a priority for the average restaurant consumer. If your place wasn't clean, you'd hear about it in reviews and customers would drop off. In the days of COVID, that's all changed. To keep your restaurant COVID clean, you need to apply the highest levels of cleanliness of the old restaurant standards at an even higher level.
Catering to the needs of customers during COVID means being aware of the fears they bring with them when they come to your restaurant. Gain their trust by showing them that they have the same amount of risk of catching the virus as they do in their own homes. That means sparkling floors, completely sanitized kitchens, masks worn properly by all employees, installing plastic barriers where needed, frequently cleaned and sanitized bathrooms, and the strictest hygiene requirements for all workers.
Embrace Search Engine Optimization (SEO)
You don't need a team of SEO experts to boost your restaurant's search visibility for potential diners searching for options on Google, Bing, or Yahoo. Here's a simple thing you can do to enhance your visibility in search engines:
Create and Optimize Your Google My Business (GMB) Listing
Of all the search engines out there, the vast majority of people looking for answers online are using Google. If you're not listed on Google, you'll have a difficult time competing with other restaurants that are. Fortunately, there's an easy way to get listed with Google My Business (GMB), a free business listing source that helps you get noticed online.
If you don't have GMB, get one verified as soon as you can. Then you can optimize your profile with images, your logo, updated menu items, and delivery information, including the delivery companies with which you're affiliated. GMB's are also where your customers will likely leave reviews, so make sure to check out their responses, and make an effort to respond quickly.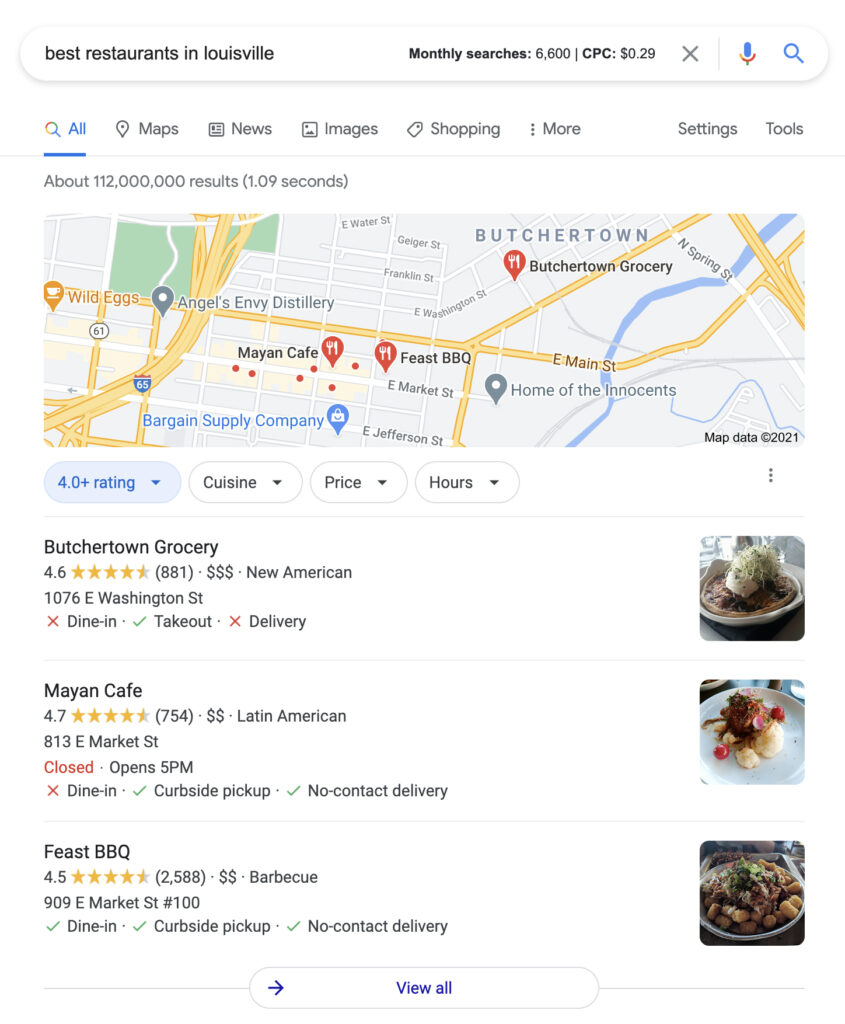 Make Use of All Delivery Options
If you're relying on just one delivery service, you're limiting your ability to appeal to customers who use multiple delivery services. GrubHub is great, but your customers also use Postmates, Uber Eats, and DoorDash, just to name a few. Use as many different services as you can to widen the net for potential customers.
If you have your own delivery service, make sure to list that in your digital assets and draw attention to everything you're doing to ensure the safety of your customers and team.
Update Your Website
Keep it simple. Let your customers know how you'll be keeping them safe if they choose to dine in your restaurant or are looking for contactless delivery and pickup. Also, make sure that your site is optimized for mobile devices and that your navigation is simple and intuitive. Another benefit of optimizing for mobile is that search engines will rank you higher in search engine results – websites with fast loading pages and easy navigation tend to do better when ranking online.
Increase Your Social Presence
Go where potential customers are, and a lot of them are active on social channels. Does this mean you need to be on every channel? No, but you should definitely be on Instagram and Facebook. Posting a nice pic of a seasonal special can help turn scrollers into diners. People go to Instagram to show off, so why not do the same for your restaurant?
Research has shown that diners are heavily influenced by a restaurant's social media content. A recent survey posted by QSR showed that:
45% of U.S. diners visited a restaurant for the first time after seeing its social media content
22% said that a restaurant's social content enticed them to return
13% said that a restaurant's social content had discouraged them from returning
Here are some things you can do to create engaging social content for your restaurant:
Show off your menu. Every restaurant has dishes that set them apart from the rest. Take pics of your top menu items and give them accurate, engaging descriptions.
Show behind-the-scenes. Restaurant fans love a look behind the curtain to see how their favorite dishes are prepared. Keep the content raw and realistic.
Showcase your team. Employee recognition works as well for your team as it does for potential customers. Statistics have proven that employee recognition can have a positive impact on profits by as much as 36%.
Refresh Your Menu
While keeping fan favorites is always a great idea, make sure to keep things fresh by adding new specials every week. And with so many people taking advantage of take-out and delivery, one way to do that is to add Family Meals to the mix.
It's also important to closely monitor emerging food trends, such as "clean" food, paleo diets, plant-based protein (think Impossible Burger), and others. Capitalize on these food trends by introducing new menu items and market them to consumers.
Embrace Digital for Customer Engagement
The pandemic has changed how we dine out and many things, such as off-premise dining and physical distancing, will likely outlive the crisis. That said, the digital customer experience will be critical to retaining current customers and capturing next-generation loyalty. The best way to accomplish this is to enhance the digital experience through deep personalization. Engage your customers with personalized offers across multiple channels, like social media and email. Reward loyal customers with special offers and loyalty programs designed to keep them coming back.
Stay Open as Many Hours a Week as Possible
While you can't control your legal maximum occupancy rate, you can control how long you're open. If you've reduced your hours during the pandemic, you may have turned off loyal customers who stopped by when you were closed. This doesn't mean you've lost them for good, but it may be awhile before they come back. On the other hand, when you're open while other restaurants are closed, you can get new customers.
Need Help Navigating the Crisis? We'd Love to Talk!
Running a successful restaurant means long hours, which might not leave extra time for social marketing, content creation, and increasing your visibility on search engines. At Current360, we know how to engage potential restaurant customers and can quickly and affordably create high-quality content for social media and your website.
Sources