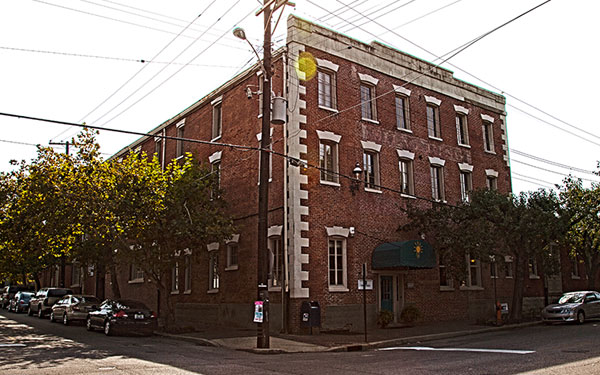 As with any new job, you get a lot of questions from friends and family…  How do you like it?  Are the people nice?  Where is it?  My answer to that last one, "Bakery Square," always gets their ears perked up.  Everyone I tell seems to have a story or memory of visiting.  Built in 1870 and a landmark in the heart of Butchertown, Bakery Square is full of history.
Before being bought in 1925 by Hellmueller Baking Company, this building had tenants such as a furniture manufacturer, a tobacco company and a fixture supplier.  The bakers, however, were the longest tenants of Bakery Square, leaving behind 2 ovens right outside my office door.  In the 70's, Bakery square was extensively renovated and broken up into retail shops and offices.  My grandmother remembers eating at a café and dining out in our courtyard.  I've talked to people who remember a popular chocolate shop and there's my officemate who spent days here at work with her mom.
It seems every day, walking the halls of this interesting building, I'm noticing something new.  Whether it be the vintage glass window panes, the old-fashioned carpentry work, or just yesterday engraved bricks out in the courtyard, CurrentMarketing's home in Bakery Square has turned out to be such a cool place to work.
Check out www.bakerysquare.com to learn more about this historic building and its occupants over the years