Every night of the week right around 7:30 I can pretty much guarantee that I will be just about to begin reading or be reading stories with my oldest son Isaac. This is how it's been for the past few years. We pick out a few stories and crawl into bed, snuggle down and read. This is one of my favorite things in the world.
Over time I've become familiar with quite a few different children's books. Some I remember from my childhood, which can evoke a strange sort of deja vu, and some that are as new to me as they are to Isaac. What triggers my strongest and most vivid memories within each book are the illustrations. Somewhere between childhood and having a child, I had forgotten what a great source of illustration children's books are.
I've always been interested in illustration, and children's books are pretty much illustrations with a sprinkling of copy. I think we may even have a few books that have only one or two sentences at the most.
Isaac and I have read a ton of good stories, but some really stand out to me, and I think it's because it's paired with good illustrations.
Here are a few of my favorites.
The Story of Ferdinand
Munro Leaf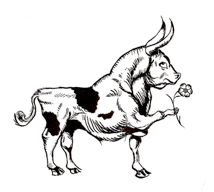 Great story with great illustrations about a bull who would rather sit under a cork tree and smell the flowers than fight in the bullring.
Oh, the Places You'll Go
Dr. Suess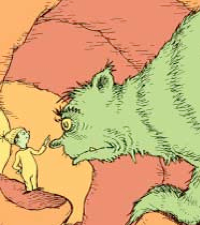 "On and on you will hike and I know you'll hike far
and face up to your problems whatever they are."
You can't miss with Dr. Suess.
Cars and Trucks and Things That Go
Richard Scarry


Richard Scarry jams as many illustrations as possible onto each page. Get him officer Flossy!
The Snowy day
Ezra Jack Keats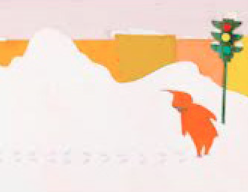 I love Keats illustrations and his stories. Great stories of kids growing up in the city.
Madeline
Ludwig Bemelmans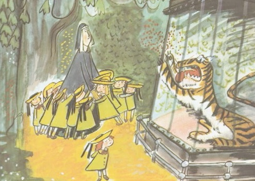 Fun books with fun illustrations
Everything Goes in the Air
Brian Biggs


I think the Everything Goes books are Isaac's favorites. Biggs books are jam packed with illustrations of thing flying and driving and sailing even more than the pages in a Richard Scarry book. What kid wouldn't love that.
Cloudy with a Chance of Meatballs
written by Judith Barret
Illustrated by Ron Barret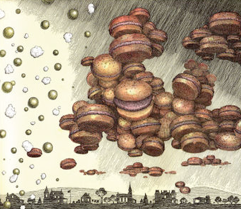 This has some of my favorite illustrations ever. they are just awesome!
All of these stories are just the tip of the iceberg. Every week we read a new batch of books full of great illustrations, some that bring back a memory of long ago and some complete new to me that create a whole new memory that is shared between Isaac and me. Maybe one day, eons from now, Isaac will experience this same nostalgic feeling just by seeing an illustration in a book.
I have a feeling that this same thing happens to millions of mothers and fathers everyday. They snuggle in close to their little ones and begin to read a story filled with illustrations that bring back memories of being in a similar warm safe place as there mother or father read to them as they stare sleepily at the illustration that fills the page and brings the book to life. Is there a book full of illustrations that brings back great memories for you?