When You Can't Join Them ... Build It.
At Current360, creativity is in our DNA. It's who we are, and it's what we do. But even we can admit that the pandemic put our ability to innovate to the test.
When things got challenging during the shutdown, we had to step up our game. Our clients needed us more than ever, especially those in the healthcare space, including Trilogy Health Solutions.
Trilogy provides a complete range of senior living services, from independent living to skilled nursing care, in more than 125 communities throughout Kentucky, Indiana, Ohio, and Michigan. Like other senior living providers across the country, they were locked down to prevent the spread of coronavirus, starting in March 2020. Only essential staff were permitted inside the buildings — no visitors were allowed. This mandate was incredibly tough on everyone, including residents, their families, and staff.
For the Trilogy marketing team, it created unforeseen barriers to getting the company's vital messages out.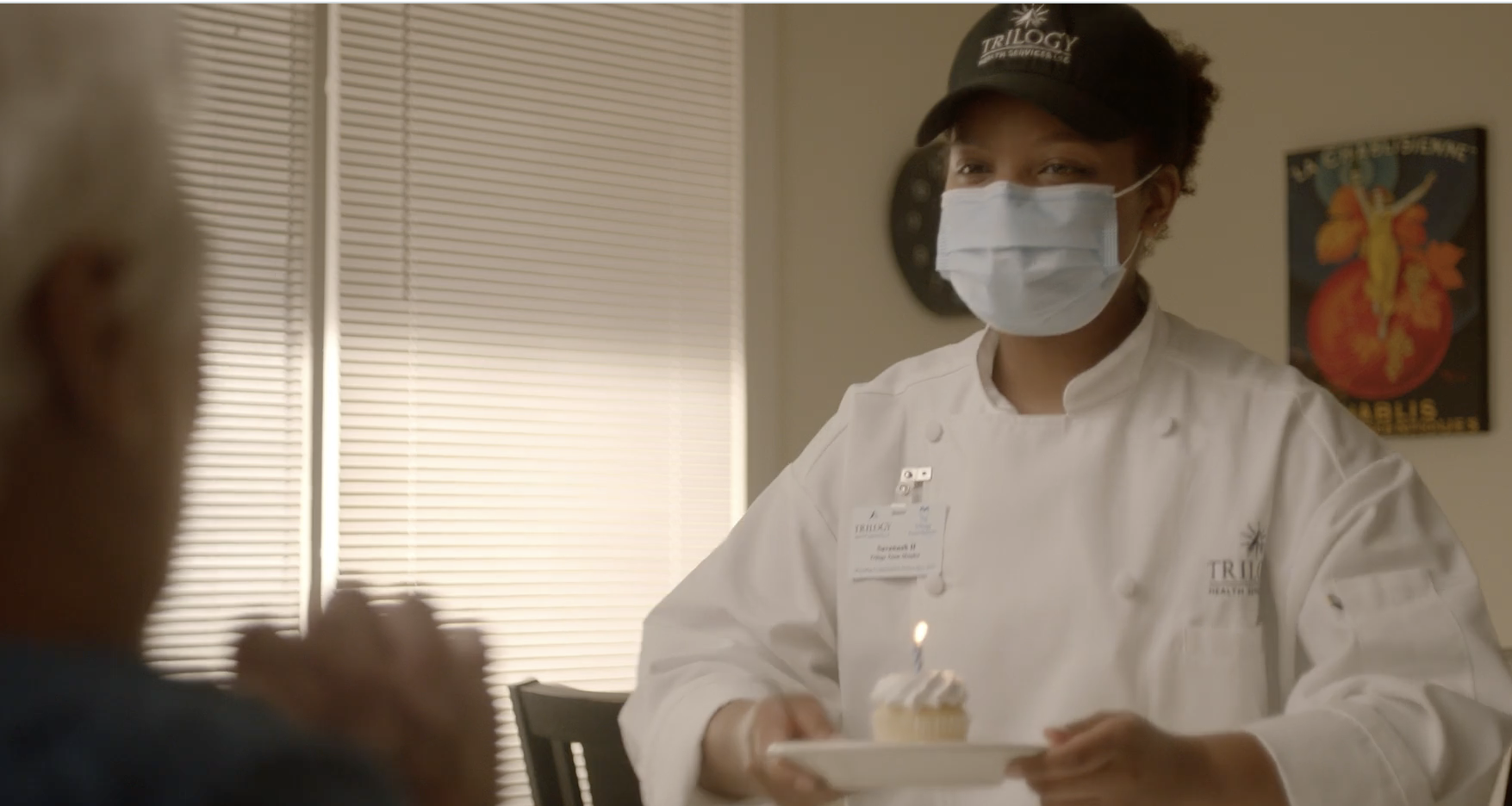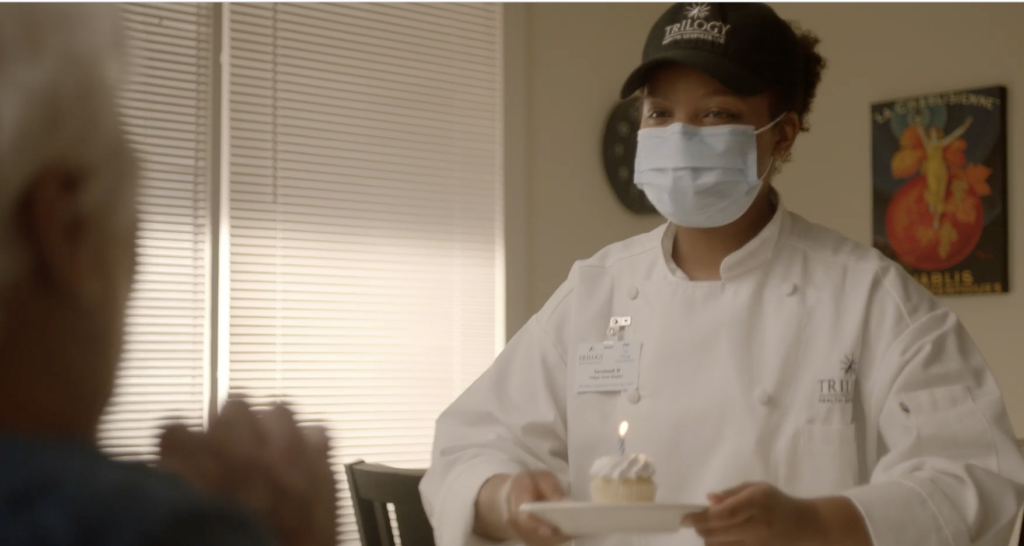 Our relationship with Trilogy began as a media buying partnership and has evolved into an authentic collaboration on all aspects of creative development (video, print, and digital assets) and digital marketing (geotargeted display, YouTube, and other video pre-roll, conquest targeting, and social media advertising). We continue to recommend, plan and buy ad space for Trilogy in traditional media, including TV, radio, and outdoor advertising, as well as local and national publications.
In mid-2020, Trilogy approached us about refreshing their television creative. The challenge? First, new mask requirements necessitated the need to shoot new footage, since Trilogy had no b-roll or any footage with team members and residents wearing masks. Second, it was impossible to get inside their well-appointed communities. Well, we've never let a closed door stand in our way before. Collaborating with the Trilogy facilities team, we "built" a perfect replica in our studio. It had everything, from the common area to the bedroom. The courtyard scenes are at an actual Trilogy community since we were able to shoot outdoors. Check out the finished product here. (Can you tell it's not the real thing? We can't either!)
Trilogy was so pleased with our ingenuity, that they leaned on us for more video work as the pandemic wore on. In 2021, still unable to shoot live-action footage in their communities, we recommended partnering with local television stations to highlight Trilogy employees. We envisioned warm, unscripted conversations about their experiences with residents, with each other, and what their work means to them. We reached out to our media partners in the markets Trilogy serves, and they were eager to jump on board.
We planned, coordinated, and supervised day-long shoots in four locations that included Louisville, Indianapolis, Columbus, and Toledo. Our team traveled to each site to direct the shoots and conduct the interviews, and we then brought 32 hours of footage back to our Louisville headquarters to work our magic. The result? Dozens of timely, essential messages for residents and families, employee recruiting, and social media.
If not for our unusual approach to video production, Trilogy may have been forced to use outdated, pre-pandemic footage. This might not sound like a big deal, but for a healthcare company to put out messaging without the subjects wearing masks during a worldwide pandemic … well, let's just say that would not have been a good look. Plus, maintaining a strong brand presence during the height of all the uncertainty was a VERY big deal.
"We could not ask for a better creative partner," says Emily Tucker, VP of Marketing & Communications. "Active communication is always a top priority at Trilogy, and it was never more important than during the past two years. The Current360 team went above and beyond to make sure our branding was fresh, relevant, and up to date throughout the challenges of the pandemic. These dynamic video messages helped us connect with potential residents, our team, and the communities we serve."
With restrictions easing and the threat of COVID-19 lessening every day, senior living communities are working hard to bounce back from two years of limited admissions. We're pleased that Trilogy Health Services is rebounding strong, and proud to have played a small part in that. We can't wait to see what the next phase of our partnership looks like!
Visit our Current360 website for more on what we learned from the pandemic.