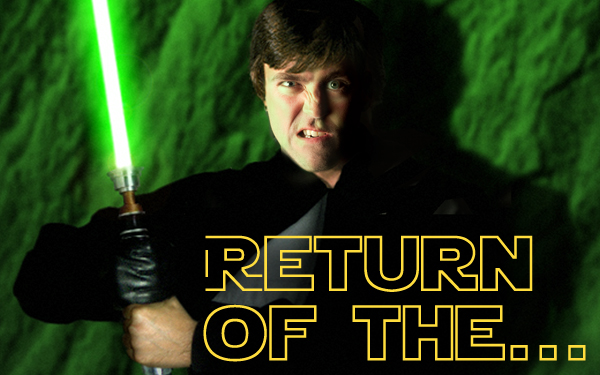 Return of the…
Duuuude, Patty, Lucas Oil, Luuuuuke, or whatever you may call me here.  I'm back! Two short years ago I decided to leave CurrentMarketing, sell my car, sell my soul to student loans and move to Chicago to study Media Arts and Animation at The Illinois Institute of Art – Chicago. While I had convinced myself, whether I liked it or not, that it would probably be a long time before I would return back home. Well, as things turned out, here I am.  And I couldn't be happier!
I am just beginning to get settled in back here at CurrentMarketing, and looking around, change is everywhere.  Being the only CurrentMarketing employee to ever leave and come back, I have a unique perspective of what has happened to this company in two short years. I have the familiarity of the company I know and worked for three awesome years and also the shock value of walking into a place that is nearly twice the size. Yep, TWICE. When I left in August 2009 there were 23 employees here. As of this week, just two years and two months later, we now have 41 employees. I think that says a lot for any company these days and just goes to show that things are heating up here.
Another big difference I am getting used to is the expansion of the office space here. I'll be honest, on a couple occasions I would brag a little to my classmates (generally kids barely 20 years old or so) about the environment I once worked. Well, luckily it has only gotten better. CurrentMarketing has now expanded to occupy nearly the entire first floor of Bakery Square. Now instead of seeing people from Lebowski Fest or other randoms walking around the courtyard, it's  CM employees… and now that I am in an office next to it, I am able to turn to Brandon ask the ever important question, " so, do they work here too?" Really, I am trying to get all the new faces and names together so I don't have another incident like the one at the Halloween party. Just ask Meredith.
In last 6 months, CM has bought the old cabinetry company next to the courtyard and converted it into a fully operational photography studio.  This space is a perfect accent to an already killer work environment. We now are able to handle most photo and video shoots in house and we seem to be getting bigger and better equipment weekly. Not to mention, it is perfect for throwing a party. Which brings me to something that has stayed unchanged. CurrentMarketing and its employees know how to thow a party. Yep, we get down. In my second week back we had our Halloween party and it was just like I remember them… or don't remember them. I hate to use cliche' expressions, but "work hard, play hard'" just about sums it up. One major thing I always enjoyed about this place is the atmosphere. There is a great mesh of so many different creative personalities and everyone seems to approach their days with positive attitudes which makes it that much easier to be involved.
The capabilities of this company have continued to move forward and are only growing.  We are now full time working with motion graphics and now that I am back with some newly learned skills, we are incorporating 3D modeling, animation and compositing to enhance product visualization to take the client's branding to the next level. My focus and passion while in school was character animation and is another area we are moving into and plan on incorporating that into commercials and mobile applications.  This is very exciting and different for us because until now we have not had this capability or even been able to brainstorm with these kind of options. With the creative collaboration and the diverse skills between everyone here, there isn't much we can't do. The sky is the limit and I am stoked to be a part of it. We are moving in the right direction and I can't wait to see what projects the future holds.