If you've ever been to a capabilities presentation with a top publisher site, you're all too familiar with the claims that they have the most unique monthly visitors, have the highest number of monthly page views and offer the most prestigious site list.  Even more a seasoned buyer, there is a lot of data to consider and the comparisons are not always apples to apples.  So, how can you rate one site above the others?
comScore, a leader in internet audience measurement, conducts monthly performance audits and publishes the results.   The results are available on a national level, or you can subscribe to their Media Metrix service, to further break down the results geographically or demographically.  This is a great tool, which levels out the playing field and analyzes based on the same information.
I thought it would be interesting to share the October 2011 results, since some of us don't regularly have the ability to look at these rankings.
The top 10 US properties are: Glam Media (10), Wikimedia (9), Turner Digital (8), Ask Network (7), Amazon Sites (6), AOL (5), Facebook (4), Microsoft Sites (3), Yahoo! Sites (2) and Google Sites (1).
There are a few pieces of data, that I find interesting, that I'd like to point out.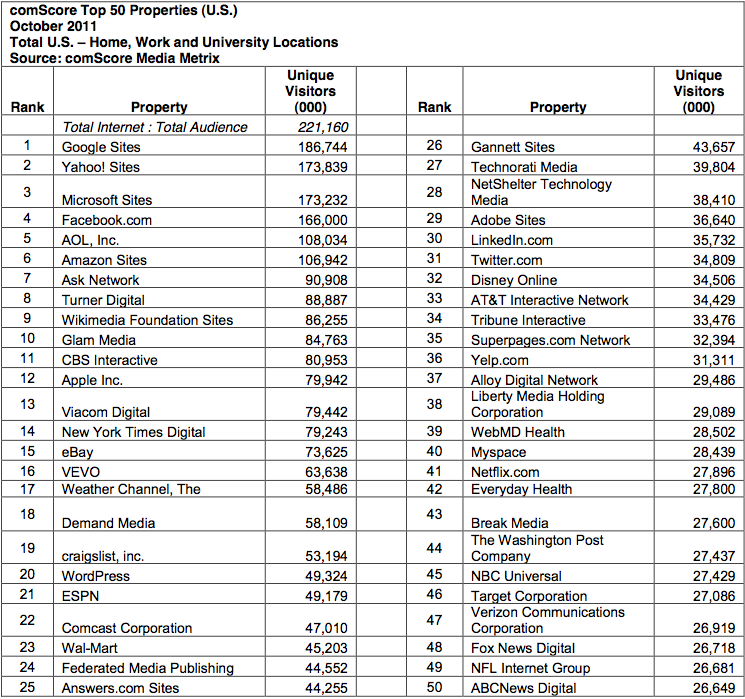 First, are the retail sites including #12 Apple (79,942,999 unique visitors), #23 Wal-Mart (45,203,000 unique visitors), #46 Target Corporation (27,086,000 unique visitors).  I expect traffic to these three sites to grow in November and December, as we approach the holiday season.
Several important social media sites are ranked highly as well, including #4 Facebook (166,000,000 unique visitors), #30 LinkedIn (35,732,000 unique visitors), #31 Twitter (34,809,000 unique visitors) and #40 MySpace (28,439,000 unique visitors).  MySpace is dead to a lot of people, but these site statistics prove otherwise, as it is alive and well, perhaps just targeting a different audience that the younger, early adopters.
It's also notable to point out that WedMD and The Washington Post each jumped 5 positions from their previous locations in September.
Ratings like this give us a lot to consider in the marketing world.  For instance, if a company is hesitant about setting up a branded Twitter account, they may be convinced otherwise if they see just how much traffic the site generates.  Also, seeing how highly ranked Amazon is, could make a strong case for a bricks and mortar retail location to expand their offerings to a national target on Amazon.