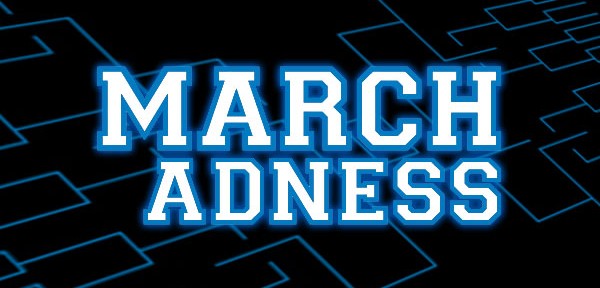 It's been a long road, but we're finally here. It's time to crown a champion for March Adness.
In our first Final Four match-up we have:
3) Wendys' "Where's the Beef?"
vs.
1) Volkswagen "Think Small"
The blue-haired powerhouse had finally met her match. And since I've said pretty much everything there is to say about the VW campaign, I'll take this opportunity to plug one of my favorite shows on TV these days, AMC's Mad Men. The show chronicles life on Madison Avenue in the "Golden Age" of advertising, the 1960's.  In the 3rd episode of the first season (Marriage of Figaro,) the aforementioned VW campaign gets a little shout-out as Don is flipping through Life Magazine and happens across the famous "Lemon" ad from the campaign. If you haven't seen Mad Men yet, check it out. In the wasteland of Reality TV and bad prime-time game shows, it's a hidden gem.
Winner: Volkswagen
In our second semifinal, we have:
1) Apple's  "1984"
vs.
4) Absolut "Bottle"
As much as I love the Absolut campaign, it is tough to match up with the genius of the "1984" spot. While the Big Brother spot was one of the most memorable in history, many people don't remember that there were at least two other computer companies running spots in that Super Bowl broadcast: Atari, featuring Alan Alda and Radio Shack, with The Incredible Hulk himself, Bill Bixby.
Winner: Apple
So it comes down to this. Somebody wake up Bill Packer because it is time to crown a
champion.
1) Apple's  "1984"
vs.
1) Volkswagen "Think Small"
While I appreciate what VW did for the subtle sell, Apple's ominous vision of the future of home computing made an incredibly strong impact. Another interesting tidbit about the campaign: Apple bought all of the advertising space (39 pages!) in the November/December special election issue of Newsweek to promote the Macintosh.
It is that kind of bold risk-taking with their image that makes Apple our 2008 March Adness Champion. And before we wrap up, check out this reprint of the story of the 1984 ad, as told by Owen Linzmayer in his book "The Mac Bathroom Reader." It's interesting stuff.
Alright folks, it's time to crank up "One Shining Moment," because I've got some serious celebrating to do. Not only have we crowned an Ad Champion , but Memphis took one on the chin this year and there is nothing a University of Louisville fan loves more than the tears of a Tiger. Those old Metro Conference rivalries don't just go away, you know