Poke-Mania
Pokemon Go has quickly become the darling of the app and social world. In less than five hours after its launch, it jumped to the top of download charts in the US. Countless stories have come out about the craze, and it's most likely to be 2016's tech phenom of the year. My social feeds have blown up with stories and images of people wandering the streets as they search for their next virtual Pokemon acquisition.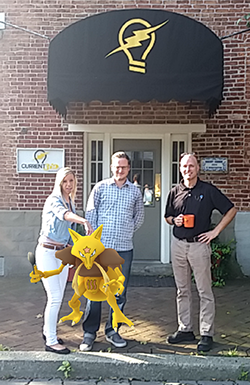 I'll be the first to admit before Monday, I knew very little about Pokemon. I know the franchise has been around for a while (20 years to be exact, I looked it up) and it revolves around a card game, I think. I've seen characters on everything from backpacks to hats and I know Netflix has thought that I'd be interested in watching the show at some point, but that's about it.
Full disclosure, I joined the digital lemmings and downloaded the app to see what all the hubbub is about. Since yesterday, I have successfully caught two Pokemon, the second of which I captured while walking into the movie theater with my kids. My six-year-old, who's interested in almost anything involving a screen these days, loved it and thought it was cute. My nine-year-old was less than impressed and asked, "So, that's all you do? That's not that cool."
So with mixed results from my two-person focus group, it got me thinking, what's next? What impact could this phenomenon have?
To me, it points to a mass acceptance of augmented reality (AR). AR has always felt like one of those technologies with great promise, but never went beyond that. It's looked amazing in futurist movies (Minority Report, Mission Impossible, or basically anything with Tom Cruise) but has never really taken off for the masses. Google Glass made strides showcasing its power, but thanks to lofty prices tags, limited supply and concerns over the record-everything camera feature, it never really took off. I know there have been other apps who have been built around AR, but for whatever reason, technical (network speeds, processing power, etc…) or social (feeling self-conscious walking down, blindly staring at a phones), it's always come across as clunky.
However, the stars finally seem to be aligned to push augmented reality into reality. Pokemon Go could be the tipping point. Network speeds and processing speeds have improved dramatically and can handle the crunch of data needed to serve information and provide a more streamlined experience. What's the difference between blindly staring at your phone as you walk down the street and searching for your next Pokemon? Like it or not, phone gazing has gone from accepted to expected.
From a marketing standpoint, Pokemon Go takes the concept of location-based digital or geo-targeting to a completely different level. Being able to serve (ideally) relevant and personal messages to consumers as they go about their day has endless possibilities. AR could alert someone to a daily special or menu offering as they walk past a store front. It could help someone find your brand on a store shelf as they shop. Or trigger a virtual demo without the need for an installed beacon.
As marketers, our challenge will be to not only learn the tech, but learn how to communicate effectively with it. I have no doubts there will be failures along the way, as people get bombarded with messages and offers, like the early days of pop-up ads. However as we get more sophisticated with the nuances and discover how and what the consumer wants from it, AR could become the next media channel. Until then, I'm off to find my next Jigglypuff.