The fight against breast cancer is a cause that is close to the hearts of many of us here at Current360 and our client Schmitt Sohne USA. So when Schmitt Sohne, importer of RELAX Wines, expressed their desire to do something to help fight the fight we were excited and honored to assist with the cause.
It began with a review of current breast cancer fundraising efforts and non-profit organizations. Soon after the Save the Ta-Tas Foundation was identified as the perfect partner. The Foundation not only funds research but does it with a wry blend of humor that aligns well with the RELAX brand lifestyle.
In September 2012, RELAX Wines launched a campaign to "Screw Cancer."  Strategically, we knew it was important to reach the RELAX audience with an attention-grabbing message and make it as easy as possible for consumers to join the cause. To make the most impact, efforts had to be executed where RELAX's millennial consumers organically consumed and shared media.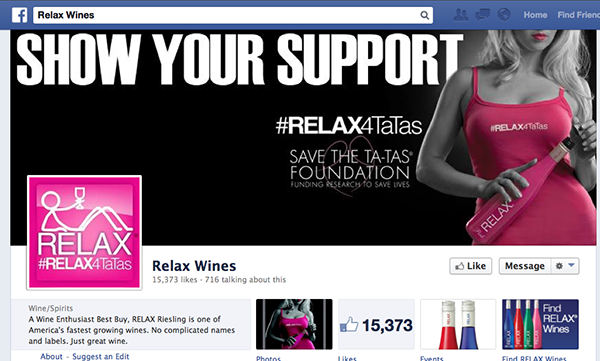 For every #RELAX4TaTas hashtag shared on Twitter, Instagram or Pinterest, and for every photo uploaded to the RELAX Facebook page, the brand donated $1 to the The Save the Ta-tas Foundation. It was promoted with targeted Facebook and Twitter ads, on the brand's social accounts and with point-of-sale materials for RELAX Pink, the brand's Spanish Rosé. The website was re-skinned and included share and pin buttons along with a gallery of consumer-submitted photos. Online mentions soared, the RELAX social accounts grew but most importantly awareness and funds were raised for Save the Ta-Tas. The campaign ended in November 2012 when RELAX Wines donated $25,000 to the Foundation.
Because of its 2012 success, we're happy to announce that #RELAX4TaTas is back for another year. After reviewing the previous campaign, it was decided that tactical actions would remain much the same and certain messaging would be modified. This time around we are asking consumer's to show their support in hopes of another significant donation to the Save the Ta-Tas Foundation.
Want to help the fight? Show your support by starting here.