One of my favorite fun things we do here at C360 is Current Movie Night. It's something we started nearly 10 years ago with a once-a-year Halloween Movie Night and has evolved into a 3- or 4-times-a-year get together where we project a movie on our giant cyc wall, have trivia contests and enjoy lots of drinks and salty snacks. It's a great way to blow off some steam, enjoy each others' company and it makes for a cheap date night. And while we take suggestions for movies to screen, the picks often come from somebody young on the staff saying they have never seen some classic bit of cinema, like Animal House or The Godfather.
One of the fun things that has evolved form our movie nights is the invitations. What started as an email has turned into a bit of a running gag using the movie poster, but with a Current360 twist, usually in the form of somebody getting photoshopped into said movie poster. The photoshop usually isn't that great (every minute is a billable minute), but it's usually good for a laugh. We've done everything from our President, Rick Schardein as Don Corleone, to VP of Emerging Media, Katy Miller, as Evil Ed from Fright Night.
When I sent the invite around this morning for upcoming next movie night, Donovan said "you should put together a little gallery of these posters," and I thought it would make for a fun blog topic.
So here are 5 of my favorites:
1. Return of the Living Dead
This was our first movie night and the first time we did a formal email invitation. (And I use the word "formal" most loosely.) Not a great movie. Not even a good movie. In fact, it's so bad that it is entertaining. And it's set in Louisville, so there's that. In the image is Katy Miller with her old hairstyle, Tech Wiz Anthony Bouvier with a radical punk hairstyle and yours truly, with the same hairstyle I've had since my freshman year in college.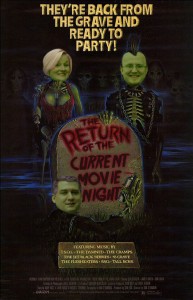 2. 300 at Bakery Square
Lots of "This! Is! Current!" jokes going around that week. This was one of the first non-Halloween movies we did and that's our Creative Director Dennis Bonifer as the villainous Xerxes. Dennis winds up in a lot of these parodies, mostly because, with a shaved head, he's really fast and easy to clip out in Photoshop. And he's a good sport.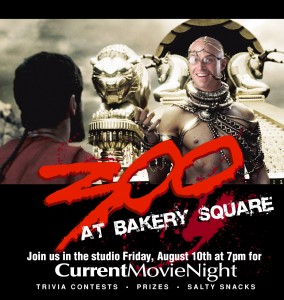 3. The Social Network
Another appearance by our Head Geek, The Bouv, in a send up of the Jessie Eisenberg poster from the film.  It's also the only time we bothered to take a new photo of someone for one of these invites. It's tough to find an existing photo of someone staring soullessly into the camera, Zuckerberg-style, so we had to let Anthony in on the design beforehand.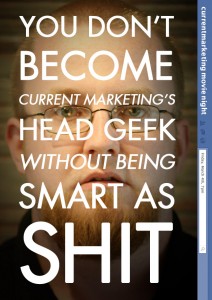 4. Jaws
Our most recent Halloween movie and one of my all-time favorites. Also one of the first invitations not to have a member of the Current 360 Players in the image. (Mostly because adding people becomes a little time consuming.) But if I could have figured out a way to make Dennis that shark, I totally would have.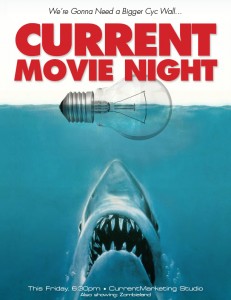 5. Django Unchained
And finally, here's the image for our next movie night, which incorporates our new logo into a Saul Bass-inspired color block poster.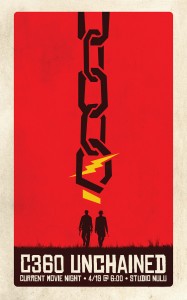 And as an added bonus, here's one of the trivia sheets form our Jaws/Zombieland double feature. Enjoy.
Jaws Zombieland Movie Trivia