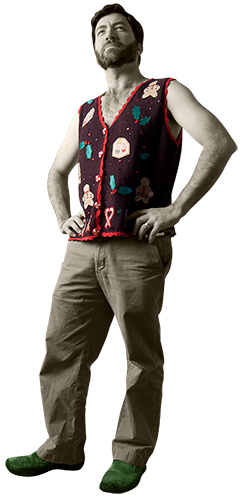 If it's true that it takes a handsome man to pull off a truly hideous sweater, it's easy to see why Rob is considered the best looking guy in the office. Once, he parlayed those star looks into a lucrative modeling career, at least until destiny intervened.
"Trav Fimmel, Mark Schenkenberg and I were all on break from a shoot in Williamsberg, Virginia," he recently told a reporter from Men's Vogue. "On a lark we decided to head over to Busch Gardens for a ride on Apollo's Chariot. We were half way down the steepest drop when an albatross hit me square in the face. Wrecked my trademark dimples forever. Who would have guessed that Fabio and I would go the same way?"
Such a tragedy. But if it's any consolation, Rob, you'll always be a poster boy to us.