I love to eat. I love to taste new things. As long it falls into the "low carb" category. Southwest foods are far from low-carb.  So, I had to lose five pounds before I went on this trip. Because for 2 days we ate our way through Phoenix/Scottsdale and then headed to Dallas for another day and a half…of eating. We made our way through thirteen restaurants in search of new menu items to bring home. Of course the people out west have enjoyed Tex-Mex for quite some time, so they have perfected it. And my taste buds were challenged!
One trendy drink we discovered is called the Jalapeño Margarita. We had it at the Iron Cactus and it was Muy Caliente! Sent one of our female "tasters" spiraling back in her chair. The guys loved it—of course. Also saw "skinny" margaritas on many menus. I had to try it because I was hoping it would somehow burn some calories. It was pretty much lime juice and tequila. Worth noting was the widespread use of agave nectar as a sweetener. Made everything taste natural and not "sugary."


The table-side guacamole is very popular and every server has their own unique delivery. One guy was dancing while he was mashing the avocados. He even turned, put his hands behind his back and mashed from behind. It was pretty funny. Guacamole varies widely from place to place. And great chips, freshly fried, matter.
Z Tejas was our first stop and we hit it right after we got off the plane. It was a mall location that seemed out of sorts from a service perspective. We were hungry so we jumped on the chips and salsa and the table-side guacamole. Nothing like fresh guac!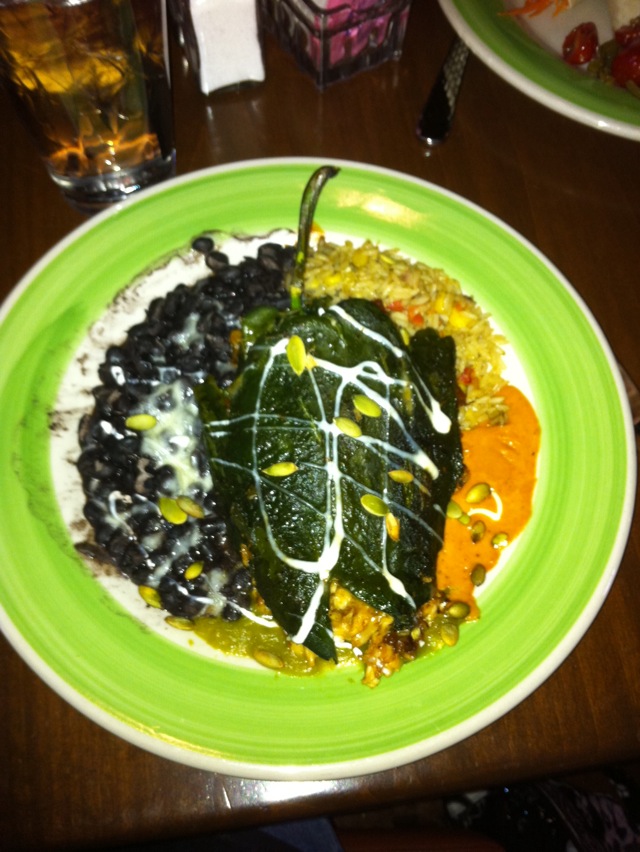 The Smoked Chicken Chile Relleno was my favorite. Sweet apricots and raisins coupled with jalapenos and cheese in a poblano pepper. Interestingly, the gals liked it better than the guys. They had a sizzling cast iron cobbler that made for a good finish. Ice cream topped with a bourbon ginger carmel sauce. It smelled amazing. Good way to get trial.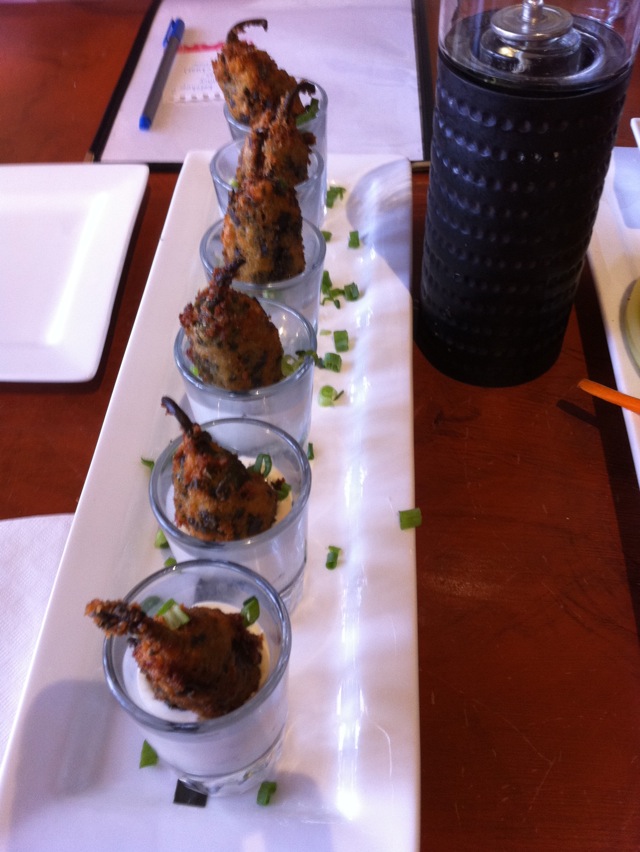 The "Shooters" at the Spotted Donkey were fun. You can get six or a "double barrel" and these stuffed peppers are served tails up in a delicious cilantro buttermilk sauce. They had Ceviche, "Arizona" Mac n' Cheese (everyone seems to have a version for grown-ups), a Carne Asada dish that was amazing and FRIED ICE CREAM! Tiny cones—about 4 bites each in four versions.
The Roaring Fork is familiar territory for many on our trip and I was a "firstie." Well, it delivered on all fronts. Ambience, Food (love that green chile pork) and service were top notch. And the best part? We could walk across the street to get there. It was our 3rd meal in 5 hours and we needed the exercise!
The next place we couldn't find. We called them two times to finally figure it out. "Between the hardware store and the shoe place." When we went to that exact spot, we found it. But not because it had a sign. They meant "hideaway." As in "Dick's Hideaway." No sign! And what a gem. For most, it was our favorite spot. Copper tables in an adobe décor with dusty wine bins lining the walls. Our table-mates were enjoying breakfast as well as some unbelievable flavors we couldn't wait to share. They had a green chile pork that got two thumbs up, a garlic plate that made for a good start and "polsole"that left me swearing I would create it again when I got home.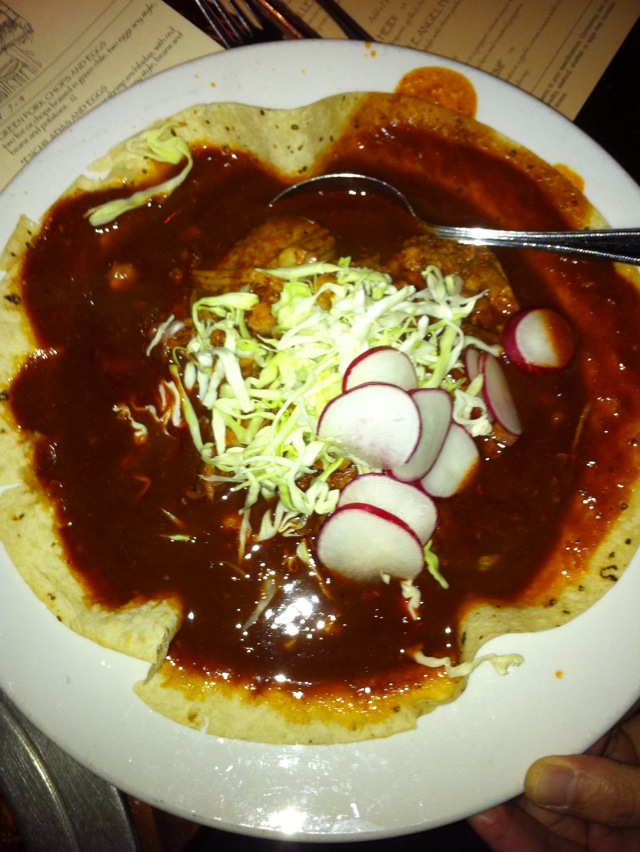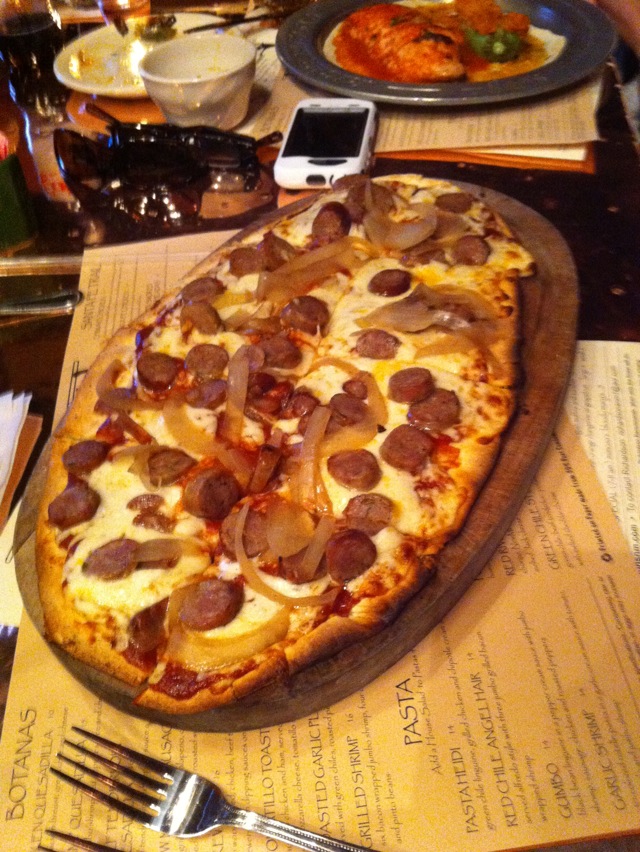 Their flatbread style tasted the best. Crust was perfectly baked.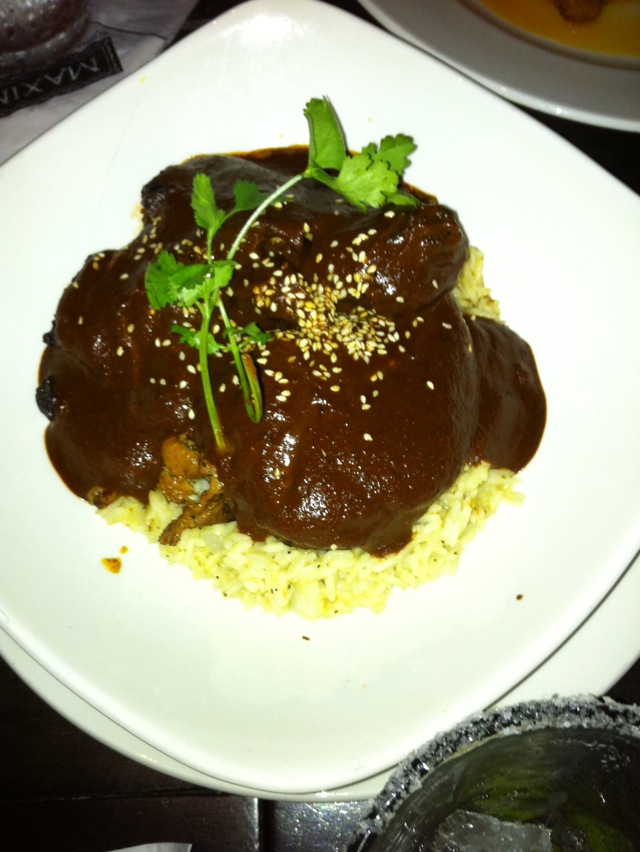 A place called Maximos in Dallas was more upscale and the chef actually came out to meet everyone. He was clearly proud of his creations and as it should be. We tried the most items here—sixteen in all. From  Lasagna Mexicana to Mexican Stir-fry and Pollo al Mole, everything was excellent. And so was the service.
The folks at Cantina Laredo were very nice. The manager was friendly and helpful. Their mango salad was great with the lime vinaigrette dressing. The frozen margaritas were refreshing and not icy. The ribeye was spiced up and very flavorful. They also had a sizzling cobbler.
There were 6 other places and all seemed to look alike once we got to the menu. We cracked up at our "take two bites and pass the plate" style of eating and how this would impact us in the future. Getting to taste many different items makes eating out fun. I suppose that is why Tapas and Botanas exist. I'm definitely a Botana Woman!