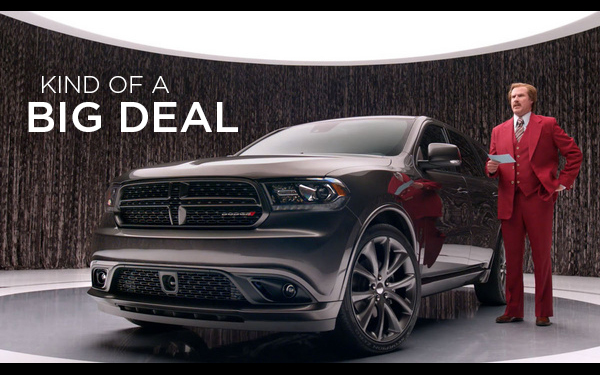 "There was a time, a time before cable. When the local anchorman reigned supreme. When people believed everything they heard on TV. This was an age when only men were allowed to read the news. And in San Diego, one anchorman was more man then the rest. His name was Ron Burgundy. He was like a god walking amongst mere mortals. He had a voice that could make a wolverine purr and suits so fine they made Sinatra look like a hobo. In other words, Ron Burgundy was the balls."
In advertising, there was also a time. A time before digital, social media, product placement, viral videos, experiential marketing, advertainment….when to promote a major motion picture release you simply printed a movie poster and bought national TV. As a marketer and a big fan of the original Anchorman movie, I've been following with interest and enthusiasm the unique path that the Anchorman 2 movie has taken to build buzz prior to the December 18th release.  A few of the more "out-of-the-box" tactics include:
Chrysler cast the "Ron Burgundy" character as its pitchman for the 2014 Dodge Durango SUV. Chrysler and Paramount claim it's the first time a marketer and movie studio have used a star in character to create original long and short-form content. The automaker and their agency Weiden & Kennedy turned over almost full creative control to Will Ferrell and his team.  Early returns are showing an incredible 36% sales increase during November. Check it out – funny stuff.
In another tie-in, ice cream maker Ben & Jerry's have developed a limited edition variety of their frozen yogurt named "Scotchy Scotch Scotch" after a classic line in the movie.  The new flavor contains butterscotch ice cream with ribbons of butterscotch swirl. Unfortunately, it contains no actual scotch.
Speaking of Scotch, Riviera Imports has announced a new Ron Burgundy-branded Scotch called "Great Odin's Raven Special Reserve." Bottled in Scotland, the 40 percent ABV Scotch blend is made with whiskies from Speyside, Highlands, and Islay, and will sell for about $25 a bottle.
The beauty of these promotions, especially the Scotch and Dodge examples, is that not only do they drive opening weekend numbers but the studio is likely receiving a hefty licensing fee. Pay me to promote my movie? "Son of a bee sting!"
Now clearly part of the reason why this works so well for Anchorman 2 is the appeal and humor of Will Ferrell. And it seems Ferrell revels in the gag of staying in character.
Still, these partnerships provide a clever template for engaging and delighting consumers on a humorous and unexpected level while creating the proverbial "win-win." "They've done studies, you know. And 60% of the time, this works every time."