Don't know if you caught it in the news this morning, but yesterday the Kentucky Derby Festival unveiled their official poster for "Thunder Over Louisville – 2008". It's big news to us because it's the 3rd consecutive year that CurrentMarketing has had the privilege of designing it. Fellow creative and resident "poster-boy" Donovan Sears did a great job capturing the excitement of the uber-spectacular airshow and fireworks extravaganza in a convenient poster-sized snapshot. If the thought of a Stealth B-2 bomber flying at you doesn't get you all warm and tingly, then maybe the fact that the poster glows in the dark will.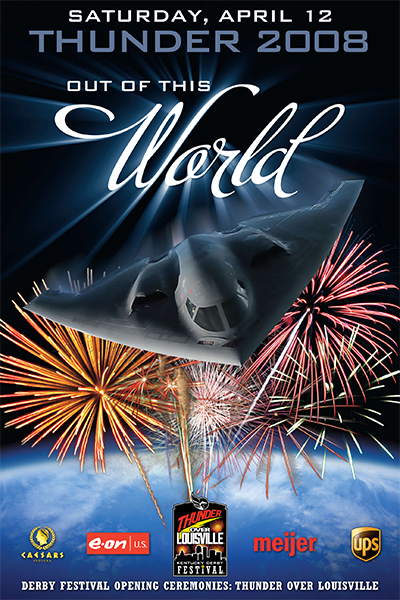 On a fairly unrelated note, for those of you that may be training for the miniMarathon you can get a great training schedule here.
I've used it the past couple of years and I always felt ready come race day. And since I'm on a running tangent, another great site is MapMyRun.com.
You can accurately plot your course without leaving the house (thanks to the ever-growing wonders of Google maps). It shows you course elevation, it can even calculate your pace and give you an idea of calories burnt – if you're into that kind of thing.