There's an old saying that the best ideas often come from necessity and once again the phrase holds true, this time in one of the restaurant world's hottest trends – food trucks. Yep, you read correctly. I just used the phrase "one of the restaurant world's hottest trends – food trucks." Banish those images of construction site food providers and creepy old ice cream vans. Think foodie friendly foods: Korean BBQ, gourmet grilled cheese and cupcakes. CUPCAKES! Clearly we're not talking your grandma's food trucks anymore.
So how did food trucks get to this point? Well, the new twist on the concept began popping up in 2008 as a result of the economic downturn. Reduced restaurant visits forced many to re-evaluate the business and consider alternative options. Food trucks proved to be an attractive alternative given the operating costs and demand from value-seeking customers. And as with many industry trends, the current food truck movement began in the large urban centers of NYC and Los Angeles. They have since caught on in popularity in cities such as Portland, OR, Austin, TX and Milwaukee, WI.
Now the rest of the country is taking note. At this year's National Restaurant Association's Show, multiple sessions were held on the topic and a handful trucks were on display. Nation's Restaurant News covered the show and spoke with Ray Villaman of MobiMunch, the nation's first mobile food service infrastructure company. Villaman said that new trucks can run for as much as $100,000 while older trucks can be converted for much less. They can also be leased for $3,000 – 4,000 a month. He quoted truck wrapping in the range of  $24,000 – 75,000 but we've also heard of DIYers getting it done for less.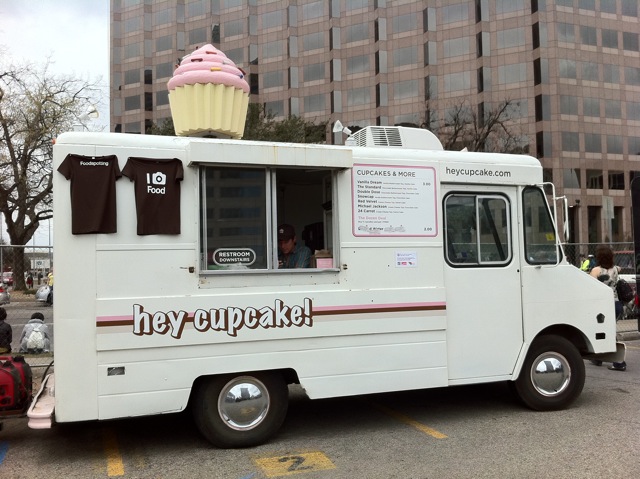 In addition to foodie friendly foods and a definite demand, social media has played an important role in helping the food truck industry grow. So much so, I believe it is what has propelled it into a hot trend. Trucks keep customers informed of time-sensitive, location-specific messages such as their daily (and even hourly) whereabouts, menu options and updates, delays and much more. Most trucks use at least one aspect of social media – be it Facebook, Twitter or Foursquare. Some even choose to use texting as mentioned in this video by Mashable which documents how specific trucks are using various tactics to promote their products.
The melding of social media and food trucks has other interesting results. The limited availability of trucks combined with frequent social updates often stimulates an immediate response from consumers. Food trucks and social media can also change perception. They are both seen as highly personable and authentic, so consumers often feel the company is very connected to its community.
When consumers purchase from a food truck, they often feel compelled to share their experience to Facebook, Twitter, Foursquare, Tumblr, Foodspotting, Instagram – the list goes on and on. They share where they found the truck, details about the menu, photos of their food and names of the food truck operators.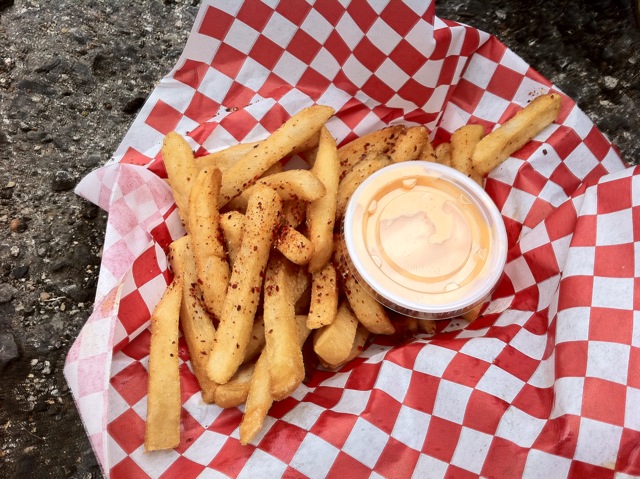 Another important factor to keep in mind is that the trucks are not limited to purely mobile food concepts. In fact, many restaurants with brick-and-mortar locations and packaged food brands are jumping into the field thanks to its unique advantages. They can serve as mobile billboards for the brand, bring the brand/restaurant experience (and of course food/products) to new customers, appeal to much sought after social-network-savvy influencers and serve as test outlets.
Locally here in Louisville, we're lucky to be on the verge of a truck boom, with at least seven trucks currently operating or in the works. And there definitely appears to be a demand to fit that many trucks and many more. Unfortunately, judging from comments made on a local food truck's Facebook Page, Louisville Metro Government needs to work out the details of food truck operations. Hopefully a solid resolution will be made soon so this food friendly town (and our offices here at Bakery Square) can enjoy the tasty and techie benefits of other forward truckin' cities!
Now Trucking Around Louisville:
Lil Cheezers: Gourmet Grilled Cheese
Morels Food Truck: All Vegan
Holy Smokes Pitmaster Q: BBQ
soupBycycle: soups made with locally grown ingredients
San Diego Sandwich Works: wraps, quesadillas, soups, sandwiches
Almost Ready To Roll:
Holy Mole: Mexican
Taco Punk: Gourmet Tacos & more (from Gabe Sowder, former chef de cuisine of 610 Magnolia)
Read more:
Inc Magazine How to Open a (Successful) Food Truck