A Client's recent annual Membership campaign called for something a little unconventional – to interrupt consumers when they were least expecting it. What is the perfect way to do that? Guerrilla Marketing, of course.
When most have weight loss and resolutions on their mind in early January, the YMCA of Greater Louisville has historically taken advantage of this as a prime time to issue a Membership message. We have worked with the Y for several years to generate the creative assets,as well as the media plan, for this campaign. While both traditional and digital channels are all great for a media mix, we wanted something different to generate buzz.
So, for one week we set out to talk to downtown office workers on their way into work. Each morning we unloaded crates of bananas from our cars and found a different spot to haunt with our message: "Would you like a healthy start to your day, complements of the YMCA?" From there we handed out a banana and a card with the following message: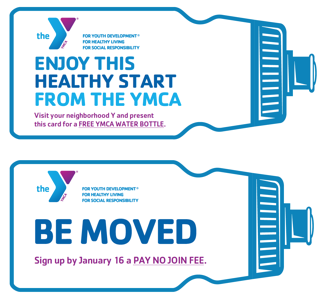 And what is a bananas message without a gorilla? Well, we had that too –  a Y Staff member in a gorilla costume!
As the week went on, people started mentioning they saw the cards and bananas around their offices, which started people talking about where they came from. By mid-week we had both workers and news crews on the lookout for us.
The best part for me was the reaction people had. Most were happy to see us out in the cold with them at 8 am and gladly took the banana and our message with a smile on their face.