Google My Business (GMB) is a free service from Google that increases visibility for your business by appearing in Google Local Pack Listings and Google Maps and opens the doors for insights and customer reviews. Not only do 93% of people consider reviews in their purchase decisions, the reviews will affect your local SEO.
Improve Google SEO performance.
Managing your GMB Profile SEO on the GMB Account will help improve your business' local search ranking. The example below reflects a Google search of "advertising agencies." The same can be seen when using Google Maps to search for "advertising agencies." Those businesses with stronger GB Account SEO will be placed first.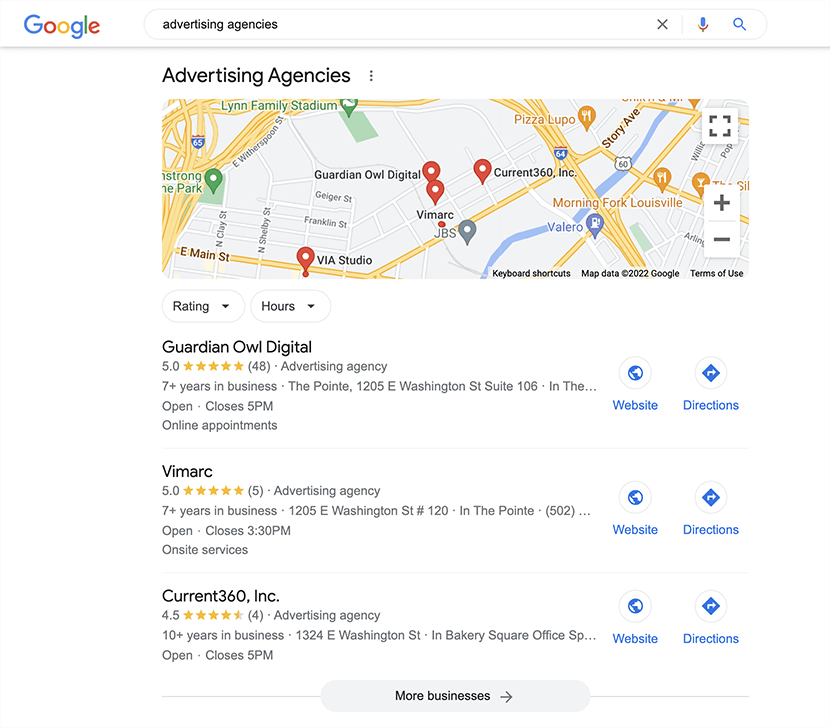 Increase information provided by Google Analytics.
You can see how folks are finding your GB profile, through maps or search, along with being able to connect to Google Analytics to see if they are clicking through the profile or directly on your website.
Engage with consumers/update your business.
Since these profiles do not have to be created by the business (e.g. they may have been auto generated), simply having control over them can allow you to ensure all information is accurate. This connection will also enable you to respond to Google reviews and questions.
Create location extensions for SEM.
Having all business location listings claimed together under one GB Account will enable you to link those profiles to Google Ads via Location extensions. This ability provides the opportunity to serve ads on Google Maps. Now even with SEO, the ads will place your business on the top of map searches, which are unavailable with normal SEM ad placements.
Set up your Google My Business account.
Want to learn how to set up your GMB? Download our handy set-up guide.