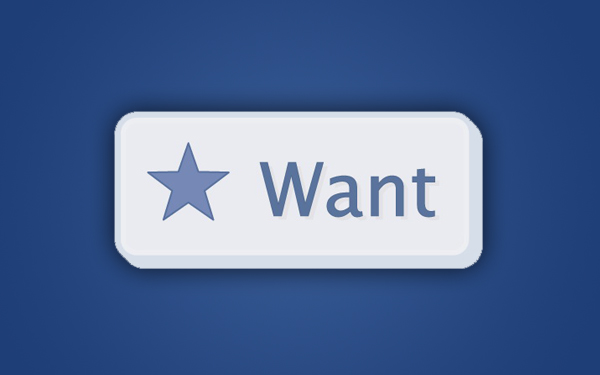 Yes, according to Tom Waddington, a developer from the website Cut Out + Keep.
Waddington recently discovered code for an Open Graph 'want' button plugin in Facebook's Javascript developer's kit. The button would function similarly to the ubiquitous 'like' button that resides on tens of millions of pages across the Interwebs. Waddington claims the button is in testing for product pages only and that it will be part of a new social commerce initiative from Facebook.
Though Facebook won't comment on the 'want' button, if they do unleash it, it could be huge for the Social Network's advertising business, and here's why:
Put simply, the button would better identify consumers who actually intend to make a purchase.
Until now, Facebook advertisers have had to base much of their targeting on consumer 'likes,' which aren't great indicators of intent to buy. After all, just because someone likes a product doesn't mean they're going to buy it — they may already own it.
By helping distinguish consumers who are more apt to make a purchase, the 'want' button would create a massive amount of desire-based data that could lead to more relevant (and theoretically, more effective) ad targeting.
But that's just the beginning.
By allowing users to share 'wants' on their timelines, the button could turn millions of Facebook members into guerilla product ambassadors, thereby viralizing word-of-mouth advertising on a larger scale than ever before.
Additionally, the 'want' button could give businesses better insights into their customer's minds, allowing them to be more responsive to their needs. Some speculate Facebook might even attach a shopping cart feature to the button, pitting it squarely against Amazon.com.
Though the 'want' button currently exists only in tiny sliver of code within the Social Network's testing platform, the possibility is stirring a lot of commotion among online advertisers. All in all, I think it's clear that the button could change the complexion of social commerce.
So what do you think? Could the 'want' button it be as big a deal as some think? Or is it just too commercial for the Social Network?