While the wages of sin might be death, the wages of sin marketing are huge profit centers for agencies and media outlets. From cigarettes to chocolates, selling things to the public that are bad for them offers an interesting moral dilemma and a chance to do some powerful advertising. Let's take a look at the Sinful Products bracket, being played… where else… Sin City, Las Vegas, NV.
1) The Marlboro Man
vs.
8) Keep American Beautiful (pollution)
Cowboys and Indians in the first round… how great is that? The Marlboro Man has been around since the 50s, when the brand was re-launched as a filtered alternative for men. (It had previously been targeted to women.) Originally the campaign revolved around many different rugged individuals doing manly things, including car repair, hunting and fishing.
After a brief switch to a more gentile treatment in the early 60s, Marlboro settled on the Cowboy motif and garnered some credibility by using real cowboys in their advertising instead of models. The campaign is still going strong today. And who can forget the crying Indian of the Keep America Beautiful campaign to fight pollution? As the stoic face of the noble Native American turned to the camera and shed a single tear, the nation felt it's collective guilt swell. Ironically, K.A.B. didn't follow Marlboro's example of authenticity, as it was revealed in the mid-90s that the star of the spot, Iron Eyes Cody, was in fact Sicilian and not native American.
Winner: History repeats itself and the Indians lose again, this time without the smallpox-infected blankets.
4) Absolut Bottle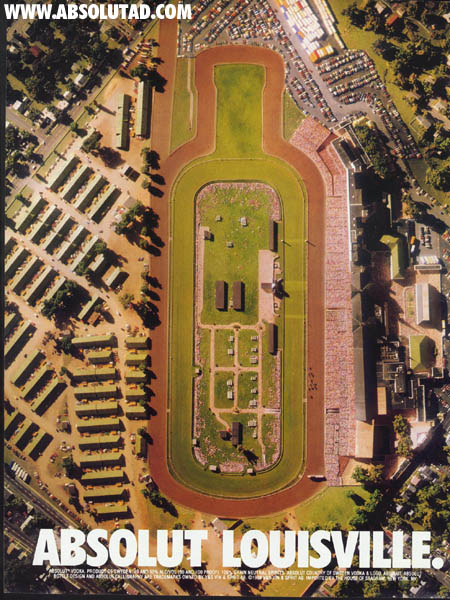 vs.
5) M&Ms melt in your mouth, not in your hands
Talk about a concept with legs. The Absolut "Bottle" campaign has been a successful and much-loved campaign since its inception in the early 80s. With over 1,500 ads in the series, it has been the subject of books and museum shows. With a series of "statehood" ads and the commission of famous artists and designers to offer their take on the iconic bottle, the breadth of this campaign is staggering. M&Ms have long based their various campaigns around a central theme: a chocolate candy you can eat without making a mess.
The line "melts in your mouth, not in your hands," set the perfect tone for parents everywhere who are tired of sticky messes.
Winner: Candy is dandy, but liquor is quicker. Absolut in a romp.
3) Miller Lite Taste Great- Less Filling
vs.
6) Budweiser "this Bud's for you"
A true clash of titans, the giants of America beer face off. For Miller Lite, you have the "Taste Great. Less Filling" spots of the 1980s. With sports and pop culture stars espousing the virtues of Miller's entry in the light beer category, it made the product look like the beer you wanted to be holding when you sports hero walked into the bar, whether it was Billy Martin or John Madden. Comic relief often came in the form of the loveable loser, former major league catcher and Brewers play-by-play man Bob Uecker. For Bud, the angle was simple…"You work hard and you deserve an ice cold beer. Let me get that for you." While Bud has changed its campaigns frequently, the tag still shows up, often paired with the famous Budweiser Clydesdale Team.
Winner: Miller Lite. But I'd rather drink a Guinness.
2) Winston Tastes Good Like a Cigarette Should or Version 2
vs.
7) Lucky Strike – Reach for a Lucky Instead of a Sweet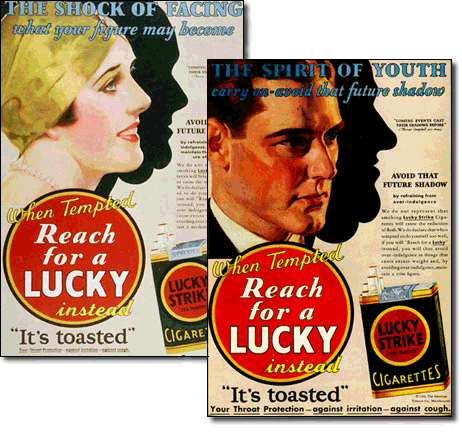 It's time now for two of the most shameful ad campaigns of all time. I do love a catchy jingle and Winston has one of the best of all time. And ethics be damned, let's get these cigarettes plugged on the biggest show on TV, even if it is a cartoon aimed at children.
As for Lucky Strike, "Reach for a Lucky Instead of a Sweet" was a hugely successful campaign in the 1920s, responsible for a 200% increase in market share. Playing on people's vanity is always a good angle, but "smoke so you don't get fat" just feels wrong.
Winner: It's like picking Duke in my NCAA pool. Winston is the winner, but I don't feel good about it.
Tomorrow: Our last region, Consumer Products.