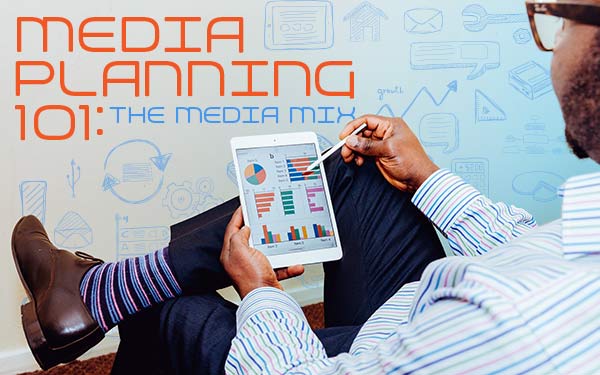 Even the best ads are ineffective if they don't reach the right audience. That's why it's so important to make sure your media strategy is solid.
Unfortunately, there's no secret trick or one-size-fits-all method when it comes to creating the best media strategies. But, there are some key figures, facts and statistics you should pay attention to during the process.
7 TIMES
That's how often someone needs to see your message before they convert. And it's most effective when those exposures come from multiple touch points.
40%
Forty percent of people are more likely to socialize online than they are face-to-face. For nearly all audience segments, social media should be a major player in your media mix.
2015
Google announced mobile search was more frequently used than desktop, which led to Mobilegeddon – an algorithm that gave preference to mobile-friendly websites. For marketers, that meant retooling digital campaigns and websites overnight.
SO NOW WHAT?
Now you've got a basic understanding of the impressions you need to generate and a top-level overview of where and how your target demographic is consuming media. But that's not enough. You need to get down to the nitty gritty.
KNOW YOUR AUDIENCE
Who are they? Where are they? What does a day in their life look like? What are their problems and concerns? Who do they spend time with?
No, we're not suggesting you stalk people. But a successful media planner has to have a knack for knowing people and their habits; they need a solid foundation of qualitative research and empathy, so they can understand what's going on in the mind of a consumer. When you understand that, you can deliver the right message in the right place at the right time. It's all about anticipating a consumer's needs and offering a solution.
MAKE IT EASY FOR 'EM
Shoppers today have a plethora of options, and brand loyalty isn't what it used to be. The point is, few if any people are going to go out of their way to buy your product or service. So, you need to make it incredibly easy for them to act on your message. Define clear calls to action and make your sales funnel or path to purchase an intuitive, seamless one.
For example, if you want customers to call you, consider running a Google Call Extension ad. If you want them to order a particular item online, make a digital ad that clicks through to the item that was in the ad creative. You get the idea.
ANALYZE THIS
You've made your amazing media plan with the perfect media mix. Now you're ready to unleash your plan into the wild and go live. Cool. But how do you know if it's working? Numbers! Google Analytics is your friend. Facebook and Twitter have their own built-in analytics. Legacy media data collection has also improved over the years.
Now test and tweak! The more data you have, the more insights you can draw from it. From those insights, you can improve and revise your media plan. True, it can be difficult to find wiggle room with legacy media plans and schedules, but most digital campaigns can be tweaked on the fly.
Sound difficult? Well, it is. And it's a constantly changing landscape. There are new marketing trends and media channels every time you turn around. That's why you need someone in your corner who knows the ropes.
Contact Us