Like much of the rest of the world, the Covid-19 pandemic has upended our industry, creating new opportunities and making what was once routine an unprecedented challenge. While working in the ad game typically requires creativity, adaptability, and flexibility, potentially exposing people to a deadly virus adds a whole new unpredictable dimension to the idea of responsible advertising.
At the time of this writing, the US has lost more than 200,000 people to Covid-19, many of whom were seniors. Knowing how vulnerable seniors are to this disease, our client, Trilogy Health Services, owner and operator of more than 100 senior living communities in the midwest, wanted to reassure the public via a TV campaign that they were taking necessary steps to keep their residents safe. The only problem was that their existing footage featured maskless staff and residents.
Covid-19 doesn't care about schedules, availability, commerce, or convenience. Understanding this, we knew that even on the morning of the first day of the shoot, we could easily be turned away if someone in the facility tested positive. So, we had to come up with a safe strategy that reduced the risk to Trilogy's residents and staff, and allowed us to get the footage we needed in a timely manner.
How Do You Plan A TV Shoot During A Pandemic?
Next door to Current360 is Studio Nulu, a photography/video studio designed for food shoots, with two large rooms: a 90 degree cyc wall and a smaller room with a loading dock. Although Trilogy has several facilities under construction, none were camera ready, so we collaborated with the client on a two-day shoot using a limited crew, recreating an assisted living facility inside Studio Nulu. That way, we wouldn't put any of the residents at risk, and cancelling the shoot would be our call. The biggest challenge was how to do it quickly, safely, and efficiently so that we didn't blow up the budget or expose anyone to the virus.
Fortunately, we'd already begun considering these questions back in May. At that time, we were just imagining. Now, we had to plan practically by looking at how other productions handled the new reality, with a greater understanding of how Covid is spread. Since the virus is communicated primarily via aerosolized droplets, we required masks at all times, except for the two shots that required our actors to go without. Box lunches were provided, and there was no craft service, so everyone was responsible for their own snacks and drinks. We banned open containers on the set, and required labels for everyone's cups to avoid mistakenly drinking someone else's coffee. We set up a video village with two large monitors for the three clients who attended to watch at appropriate distances, and set aside areas for makeup, the camera department, and for grip and lighting.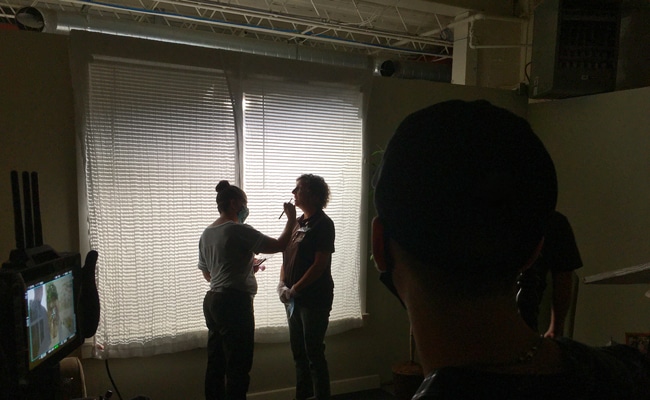 How Do You Turn A 600 SQ. Foot Loading Dock Into A Senior Assisted Living Center?
The next challenge was how to turn an empty loading dock into a space that would look like seven different locations within the same facility. We often run camera and sound, and sometimes lights and makeup as well, but this time we had to become set designers and carpenters. We designed and constructed two sets out of existing movable walls and flats, plus five new Hollywood flats and two window walls, based on photos from the actual location. The first set mimicked a typical resident's room, with four walls and a short foyer. The second was an open ended, three walled room that would serve as a lobby, a dining room, and a conference room. We scoured the agency to furnish the rooms, while the client provided many of the key props. We painted the walls using the client's color schemes and recreated small details to sell the idea that we were shooting on location. After a solid week of construction and pre-production, we were ready.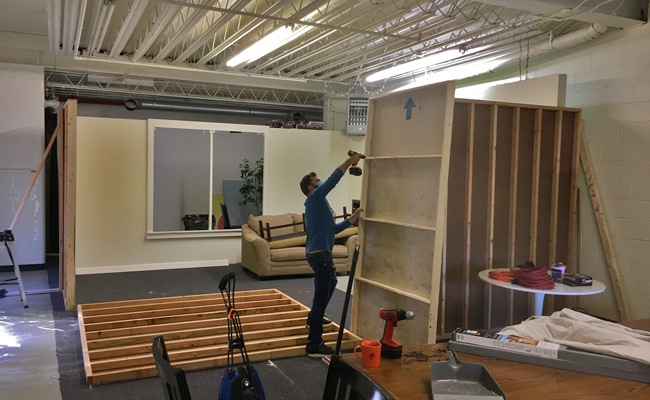 The biggest time expenditure of the production turned out to be the art department, which was also comprised of us. We had to dress and re-dress the same corner of the set a bunch of times in order to make it seem like different rooms. We had to find a new bed a half hour before we were set to roll. And we had to completely change the action and all the props in one scene when it became apparent the action we'd planned wouldn't work. But because we're nimble and planned ahead, because we focused on the people as opposed to the location, and because we brought in a killer crew (not to mention the boatload of props we had lying around), we were able to pull it off. Check out the finished spot below. Looks like the real deal to me!