A popular brand wants to take out the trash talk between girls.
Secret® Deodorant is trying to help undo the face-to-face mean, text-to-text mean, e-mail-to-e-mail mean — any kind of mean to which every generation of girls seems to subject each other. Secret is here to undo the mean by promoting random acts of kindness.
Secret wants young girls (and maybe the older ones too) to stop being mean to each other — proclaiming "Being mean is stinky."
Secret has created a Facebook application that allows users to promote kindness and apologize for any meanness to which they have previously subjected other by using a few tools:
Graffiti:
Instead of talking badly about someone behind her back, say something nice behind her back with the pen tool. It's like graffiti for your Facebook page. Choose your background, choose your friend, select the style of "handwriting" and choose your message.
The message is then posted to your photos and your friend is tagged.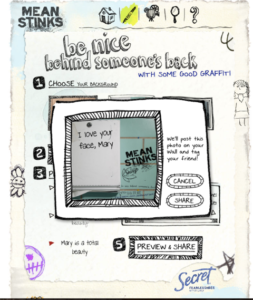 2) Videos:
Users can view apology videos from those who have submitted them and even submit their own.
3) Face ur self:
Secret works with Facebook to select some of the user's recent Facebook posts and has them judge themselves. Was their post, "Kinda mean" or "Pretty Harmless." The user gets a reality check, based on their answers, as to if they are posting messages that could be interpreted as mean.
Advice
Users can even ask advice about how to get out of a "sticky dilemma" they might be in.
After exploring the application, my only dislike was the "graffiti."  The graffiti I posted about my friends appeared only on my wall as a photo and my friends were tagged.  I was expecting it to be posted to their wall — allowing for more views — rather than buried under in their tagged photos. That was my only issue with the application.
Although I'm not the target demo of middle and high school aged girls, I am still able to connect with the message — what a genius way to get your target audience to directly interact with your brand! After all, just about every female, no matter what age, can relate to this campaign. We've all been the target of a mean girl at some point in our lives.
And it seems girls on Facebook are taking notice: 66,432 likes, as of this post.