Graphic designers and brand experts have long preached logo consistency. We do here, too. But when you can build brand awareness and equity, why not try something new?
Many brands today apply a temporary, sometimes seasonal, design element to add life and energy to their logos, and even create buzz about their brand. Google, for example, recognizes every holiday and season with logo garnish they call "doodles" on its homepage. Yahoo, The Gap, Wild Apricot and Target also seasonalize their logos all year long.
Recently, we gave Kentucky Derby Festival's logo a seasonal look to incorporate the creative theme for this year's Festival, A World of Fun.
When the international theme was developed for the 2008 Festival, it seemed natural to bring that feel to the corporate mark. The sphere that normally holds the Golden Pegasus became the perfect area to integrate the globe shape. The latitude and longitude lines helped add depth and define this shape. The color modification to blue and gold helped set the complete mark apart.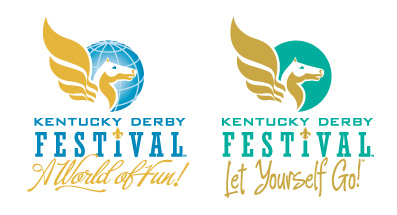 The industry buzz is that this technique can infuse new energy into a corporate logo, increase website traffic and build overall awareness of your brand.
I cannot wait to see what Google has to offer for Major League Baseball's opening day what Derby Festival may have to offer in 2009.
Until then.